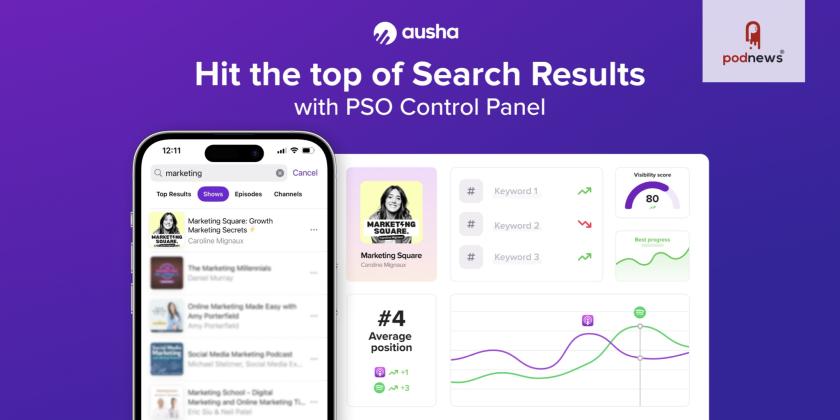 Rank higher in Podcast Search Results with Ausha's new PSO Control Panel
Press Release · via Ausha ·
According to The Podcast Host, 40% of podcast listeners search for a podcast directly on their listening apps. And among them, 58% type the topic into their app's search bar, and choose from the results. This highlights the significant role that search plays in helping people discover podcasts. Ausha, the leading podcast marketing platform, is pleased to introduce a groundbreaking solution: the PSO Control Panel.
Choosing the right keywords for your podcast's metadata is crucial.
While website creators have SEO (Search Engine Optimization) down to a science, the world of podcasting, even with similar search bar logic, hasn't been explored as much when it comes to optimization.
Figuring out the murky algorithms that help people find your podcast has become a big deal for creators.
Apple Podcasts says that podcasters can get more eyes (or ears) on their shows by integrating keywords in their metadata, choosing the most spot-on keywords for their show, and racking up good ratings.
But let's be real: finding the best keywords for your podcast can be difficult.
Introducing Podcast Search Optimization (PSO).
Much like SEO for websites, PSO is all about optimizing your metadata to boost your podcast's visibility in search results. It's not just about using keywords but knowing how to strategically integrate them to enhance your show's discoverability and reach a larger audience.
In a nutshell, PSO is becoming an indispensable skill for podcasters who are serious about growing their audience and making their content easily findable.
But here's the thing: If you can't measure it, you can't improve it.
Ausha introduces a groundbreaking solution – the PSO Control Panel.
PSO Control Panel is the ultimate ally for podcasters who want to track their positions on listening platforms like Apple Podcasts and Spotify.
The PSO Control Panel is a brand-new feature designed by Ausha to empower podcasters to identify, monitor, and optimize their keyword choices, thereby granting them control over their visibility and discoverability.
From day one, Ausha has focused on giving podcasters easy-to-use tools to reach more listeners and grow their shows. In a world overwhelmed with podcast choices, where being visible is key, the PSO Control Panel is Ausha's latest commitment to podcasters.
Today Ausha is kicking off the private Beta Test of the PSO Control Panel
A select group of 100 Ausha users will be the first to try out this innovative tool to optimize their rankings.
Ausha plans to open the PSO Control Panel for all Ausha's users by the end of the year.
Stay tuned for more PSO news by registering to our mailing list.
About Ausha
Ausha stands as a leading force in the realm of Innovative Podcast Marketing.
Founded in France in 2018 and making its mark in the U.S. since 2022, Ausha provides an all-in-one platform that simplifies every facet of podcast marketing.
From seamless hosting and distribution across major global directories to advanced promotional tools backed by AI, Ausha is the go-to platform for over 11,000 podcasters worldwide.
Always at the cutting edge of technology, Ausha is committed to empowering podcasters to grow their audience. Beyond our tech expertise, Ausha is proud to be a "Great Place to Work" and is dedicated to various social and environmental causes. Learn more at www.ausha.co.
This is a press release which we link to from Podnews, our daily newsletter about podcasting and on-demand. We may make small edits for editorial reasons.