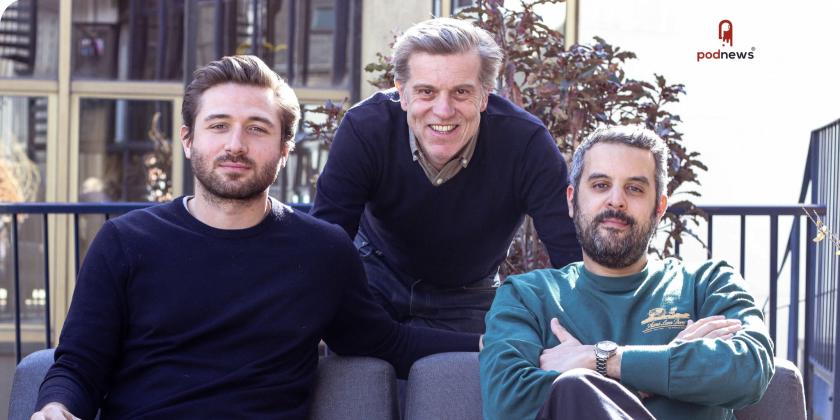 Record funding for French digital audio: Audion raises €6 million in Series A
Press Release · Paris, France · via Katch Reyners ·
Audion, the French leader in digital audio and podcast monetization, has raised a six million euros Series A funding round from Founders Future, Elevation Capital Partners, Financière Arbevel and business angels. In a rapidly changing global advertising context, digital audio is the only media that maintains a strong growth in H1 2022. Audion is the industry leader in France thanks to an increase in turnover of almost 100% in 2022. The start-up, which enables publishers to broadcast advertisements on their audio content and convert their articles into podcasts, aims to become the European leader in the digital audio monetization market within three years and to open offices in three new countries. Audion is already present in the UK and France.
Audion announces the first fundraising in the BtoB digital audio sector in France, with its historical investor Founders Future (Yuka, Lydia, Omi…), Elevation Capital Partners (Morning, Certideal, Plug-in Digital…) completed by a bonded debt funding with Arbevel Dette Privée PME. The start-up, which provides text-to-speech and digital audio monetization technologies, aims to help publishers create and capitalize on their audio content. Having raised €1.1m in seed funding in 2019, this new round should enable Audion to recruit around fifty people in the next twelve to eighteen months and open offices in three new European countries. The company, which already works with major media groups, will strengthen its offer and its presence with publishers, platforms (Spotify, Deezer, Soundcloud…), advertisers (Intel, BMW, McDonalds, Lidl, Ikea…) and media agencies (WPP, OMG, Dentsu…), to continue innovating and accompany this digital audio revolution.
Founded in 2018, Audion works with more than a hundred companies - media, publishers, podcast producers… - and has seen a nearly 100% growth of its turnover in 2022. It is the only French company offering digital audio monetization technologies and is the leader in terms of revenue, number of clients and campaigns, and it also operates in dozens of countries. While the global advertising industry is being massively impacted, audio records the most significant growth (+50% according to the Observatoire de l'e-pub). Audion continues to grow with nearly +100% in both 2021 and in 2022. The only French company in the BtoB audio market, Audion wants to use these funds to accelerate its growth and become European leader. Based in Paris and London, it currently has 25 employees. Its latest technology, PrintAudio, which converts text articles into podcasts and broadcasts them, has already been implemented on almost one billion web pages.
Consumers listen more and more to digital audio - radio replay, non-linear radio, native podcast, music streaming, web radio, text-to-speech, etc. 6.3% of Internet users listen to online content every month (IAB Digital Audio Panorama, 2022), pushing brands and publishers to adapt their offer and their communication channels. But the growth of digital audio largely relies on advertising, as publishers and producers cannot create a large audio offer without monetization capabilities. As the only French player in the market, Audion is benefiting from this evolution in usage, which explains its constant growth despite a struggling advertising market.
Kamel El Hadef, co-founder of Audion, explained: "today, you can't raise funds if your model is not sustainable. Our position as a French pioneer in the monetization of all digital audio formats and our ability to become the European leader attracted the investors we decided to work with. But it is also our healthy growth since our inception that has enabled us to sign the largest funding round ever in French audio adtech. The market is at a turning point today: either brands and media adapt and launch audio offers, or they take the risk of arriving too late! Hence this new funding round."
For Benjamin Cohen, co-founder and managing director of Elevation Capital, "we were attracted by Audion's pioneering position in its market and by its strong growth since its creation. In the current context, we are looking for companies with healthy growth, a profitable business model and unique innovations. This is the case for Audion, the first French company to offer monetization technologies dedicated to digital audio. As more and more media launch audio content, we can foresee a strong acceleration of the growth of Audion, the only French player able to accompany them."
Marc Ménasé, founder and CEO of Founders Future, said: "We have been supporting Audion since its first funding round three years ago. Initially, we saw the uniqueness of the technology developed by the team and the alignment with a growing need for advertisers and publishers. Arthur and Kamel had sensed that the media would increasingly turn to audio content to meet their readers' demand for quality, online, delinearised audio content - which required the ability to monetize this content. We are very pleased to take part in this new round, which demonstrates the growth of the company, now a leader in France."
About Audion
Founded in 2018 by Arthur Larrey and Kamel El Hadef, Audion is the leading French technology company in digital audio monetization. It supports publishers across the audio value chain by providing innovative technologies that allow them to create and host new content, then monetize it in an automated way. It provides brands with its proprietary technology and know-how to enable them to communicate effectively on all digital audio media.
Based in Paris and London, the company has 25 employees and works with more than 100 media and platform partners and more than 500 brands and agencies, including all of the French Big 6 media agencies (WPP, Omnicom, Publicis, Havas, Dentsu, Aegis, Heroiks).
About Founders Future
An investment platform founded in 2018 by the entrepreneur Marc Menasé, Founders Future invests in seed stage in tech, digital and impact, in France and Europe, and supports ambitious and responsible founders into the structuration of their startups. The company combines the agility and operational support of a business angel with the robustness of a fund. Founders Future has invested in Sharpist, Lydia, Metafore, Bitstack, Taster, Yuka, Bonsoirs, Omi, Waterdrop, Alma and Audion.
About Elevation Capital Partners
Elevation Capital Partners, an Inter Invest Group company, is a private equity investor targeting French start ups founded by visionary entrepreneurs, combining rapid growth and solid financial profile and well-positioned on innovative markets. Since inception in 2015, Elevation Capital Partners aims to support private companies with the shared ambition to build leaders on their market.
About Financière Abrevel
Taken over by its current management in 2009, Arbevel, an independent and entrepreneurial asset management company, is a key player in the small and mid-cap universe.
With an investment philosophy focused on financial, extra-financial and strategic analysis of the companies, Arbevel defines itself above all as a «Research House». In recent years, Arbevel has expanded its range of products and services by offering its clients equity, bond, diversified and total return funds as well as private equity, private debt and discretionary portfolio management. As of June 30, 2022, Arbevel had €2.6 billion in assets under management and 47 employees.
This is a press release from Katch Reyners which we link to from Podnews, our daily newsletter about podcasting and on-demand. This is reprinted verbatim; we may rewrite headlines and descriptions.