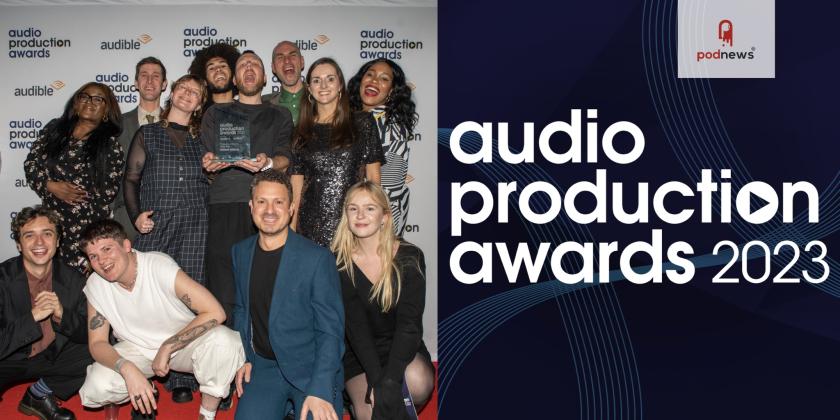 The Audio Production Awards are back for 2023! Entries open from Monday 17 July at 12pm
Press Release · London, UK ·
Organised by AudioUK, the trade body which champions and supports independent audio production businesses in the UK, the Audio Production Awards, sponsored by Audible, return for their thirteenth year.
The Awards recognise and celebrate outstanding achievement in audio production across a huge range of audio content: podcasts, audiobooks, sound design, radio, presenting; and are open to production talent across the UK.
Chloe Straw, Managing Director of AudioUK, said: "I can't quite believe that it is that time of the year again, somehow here we are, ready to launch the 2023 Audio Production Awards. I'm really proud of the Audio Production Awards and the talent we are able to shine a spotlight on. The audio industry continues to be incredibly fast paced, changing and growing at speeds that seemed unimaginable.
The Awards give us a chance to take a breath and appreciate the high quality work that the people, businesses, networks and platforms making audio content produce on a daily basis.
Everyone is welcome to enter the awards - from large productions to one person working alone, across the UK, big or small budgets, podcasts, radio and audiobooks, independent freelancers to big networks. As always, we have spent hours deciding the categories, and would love to add more, but there is only so much time in an evening at the BFI!
I'm so pleased that we are working with Audible once again as the headline sponsor on the awards - we've got some exciting things planned for this year. I'm also delighted that we can offer the Pay What You Can Scheme again for those who would otherwise find the fee a barrier to entry. Thank you to Amazon Music and Wondery for sponsoring the scheme. I'm really looking forward to working with them again.
Thank you to our new lead producer Katie Banham and assistant producer Matt Murphy, alongside executive producer Sophie Cantopher, and EDI consultant Yassine Senghor, all who work tirelessly to bring every aspect of the awards together. We look forward to celebrating together as an industry at the British Film Institute on Wednesday 22nd November!"
There are 22 categories ranging from Best Producer in Comedy, Factual, Drama & Fiction, Arts, Music, Entertainment, Lifestyle & Society, Audiobooks, Sound Design and more, plus a variety of on-mic and emerging talent awards, Best Ensemble Cast, and the special AudioUK award - last year awarded to Lily Ames and Laura Blake, Heads of The UK Audio Network (UKAN).
As usual, there are awards for Production Company of the Year, Publisher or Network of the Year, as well as the continuation of last year's addition of Producer of the Year and The Sustainability Award.
Once again, the Grassroots Production category will celebrate producers, teams and/or organisations working close to their communities, and this category will be free to enter, recognising the particular challenges faced in that part of the sector.
Entry Information
The Awards are opening for entry earlier this year so applicants will have 9 weeks to enter instead of 6 as in previous years.
Early Bird entry fee is frozen at 2018's prices of £35+VAT for AudioUK Members and £45+VAT for non-members, and will run for 7 weeks until Monday 11th September at 9am. From then on, the standard entry fee will be £45+VAT for AudioUK Members and £55+VAT for non-members until the final deadline on Wednesday 20th September at 2pm (please note: there will be no late extension to the entry deadline).
Pay What You Can Scheme
With the excellent support from Amazon Music and Wondery, AudioUK will be running the Pay What You Can scheme for a third year, offering discounted entry rates and tickets for those under financial constraints, who would otherwise be unable to enter and attend the Awards. Please email katie@audioproductionawards.co.uk to access the scheme.
TO ENTER plus all category descriptions, eligibility criteria, and further details
Find out more about joining AudioUK
This is a press release which we link to from Podnews, our daily newsletter about podcasting and on-demand. We may make small edits for editorial reasons.