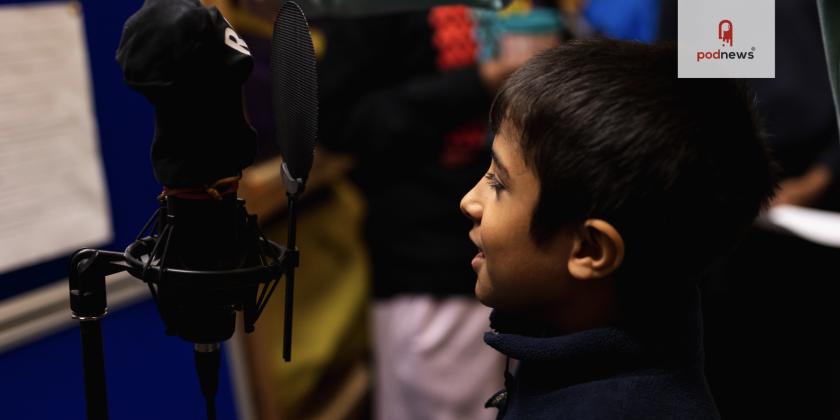 Art with Heart launches a podcast working with Manchester council, artists and primary schools
Press Release · Manchester, UK ·
Arts organisation ART WITH HEART launch SMALL VOICES, a podcast in collaboration with Manchester artists and local primary schools as part of MANCHESTER CITY COUNCIL'S Our Year Project.
Art with Heart are collaborating with three Manchester artists and year 6 pupils in partnership with Manchester City Council as part of the council's 2022 'Year of the Child' project, celebrating and supporting young people in Manchester. The project, Small Voices, will include a special episode of Art with Heart's podcast Box Tickers, which launched in 2020 to mark the tenth anniversary of the Equality act – and follows over half a decade running equalities workshops in schools throughout Manchester.
The one-off episode will explore what equality means to young people in Manchester and what adults can do to make things better for the next generation. In preparation, Art with Heart have been running workshops with pupils at, St. Wilfrid's Church of England Primary School in Newton Heath, Crowcroft Park Primary School in Longsight and Haveley Hey Community School in Wythenshawe, focusing on equality, equity, allyship and identity.
These workshops have been followed by sessions with renowned poets Louise Wallwein MBE, mandla and David Viney, working with the pupils to create poems and provocations for the podcast. The artists will also come together to write a manifesto based on the pupil's work, which will inform a poster campaign to be displayed throughout the city in February 2023.
The special episode of Box Tickers Podcast will be launched on the 9th of December, ahead of International Human Rights Day on the 10th of December. Resource packs containing a link to the episode and manifesto will be distributed to primary schools throughout the region, featuring equalities activities that teachers can run with their own classes.
Rachel Moorhouse, Co-Creative Director of Art with Heart says: "Following the pandemic, issues around equality have become exacerbated – and our young people are rarely given a voice to speak about issues that matter greatly to them. Climate catastrophe, cost of living, sexism, racism and homophobia are all terms our children are familiar with – and Small Voices offers an opportunity for us to listen to the demands of our younger generations and do better."
Sharon Gardner, Manchester City Council says: Manchester City Council Children's and Education Directorate were delighted to commission 'Small Voices' as part of 'Our Year' a celebration of children and young people. Using grant funding from the Community Safety Partnership, we wanted to engage with, listen to and capture the voice of our Manchester children about important issues of equality, equity, allyship and identity. The children have worked hard with the artists to produce some amazing poetry and art which tells us what is important to them. We are committed to listening and responding to their views through our commitment to ensuring that they can lead safe, healthy, happy, successful and independent lives now and as they grow up.
A pupil, aged 11, says: "children are at the bottom of society, nobody listens to us, nobody respects what we have to say, we don't have a voice!"
Listen
This is a press release which we link to from Podnews, our daily newsletter about podcasting and on-demand. This is reprinted verbatim; we may rewrite headlines and descriptions.
This page contains automated links to Apple Podcasts. We may receive a commission for any purchases made.