True Crime, Sport and Society & Culture show year-on-year growth
PRESS RELEASE · Sydney NSW, Australia ·
Listeners are getting their True Crime, Sport and Society & Culture fix on the iHeartPodcast Network with year-on-year growth seen across these popular genres.
iHeartPodcast Network Australia listener data of over 800 thousand Australian devices in July1 – from podcast technology provider Megaphone – shows consistent listening across popular categories year-on-year.
The Entertainment & Lifestyle category remains the most popular on the iHeartPodcast Network followed by Catchup Radio. Excellent year-on-year growth was recorded for popular podcast categories including True Crime (up 121%)1, Sport (up 172%)1, and Society & Culture (up 243%)1.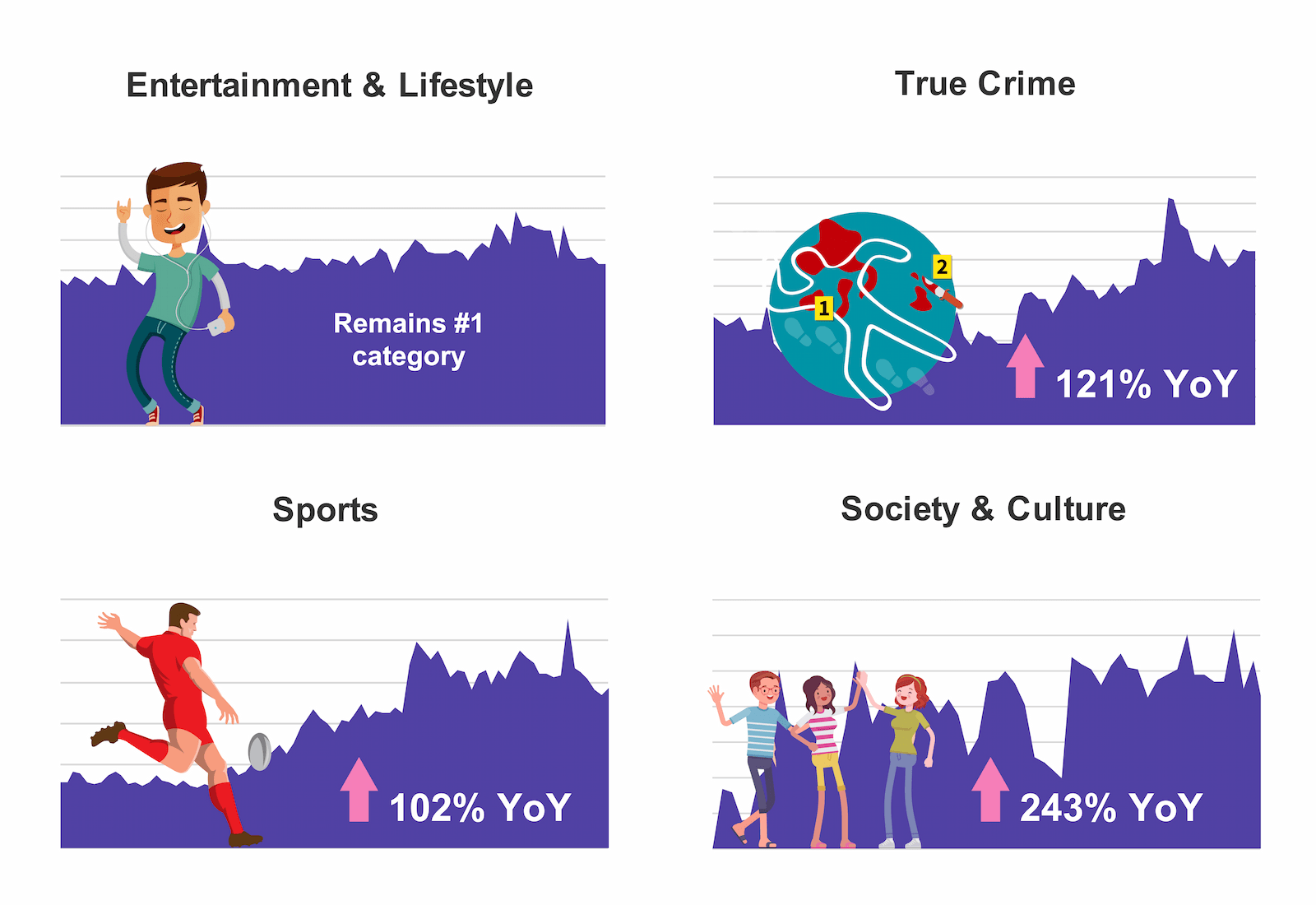 ARN's Head of Digital Audio, Corey Layton said, "As Australia's #1 Podcast Publisher we are committed to deliver quality connections for our audiences and commercial partners. Across all our categories we are seeing consistently strong listening, a testament to the diverse and compelling content available on the iHeartPodcast Network which continues to evolve."
The new data coincides with today's release of the Australian Podcast Ranker results for July. ARN's iHeartPodcast Network Australia held its position as Australia's #1 podcast publisher2 for the 14th consecutive ranker – with four of the top five most popular podcasts in the country.
Audioboom's Casefile, which is part of the iHeartPodcast Network, is #2, The Kyle & Jackie O Show are #3 (#1 radio catch up podcast), Stuff You Should Know is #4 on the Australian Podcast Ranker. Life Uncut with Brittany Hockley and Laura Byrne are #5 and She's On The Money is #9. No Such Thing As A Fish is #11, Morbid is #16.
Source 1: Megaphone Hosting Platform, 800k+ Australian Devices, July 2021 compared with July 2020 Time spent listening
Source 2: Triton Digital's Australian Podcast Ranker (July 2021) of the participating publishers.
This is a press release which we link to from our daily newsletter about podcasting and on-demand. This is reprinted verbatim; we may rewrite headlines and descriptions.