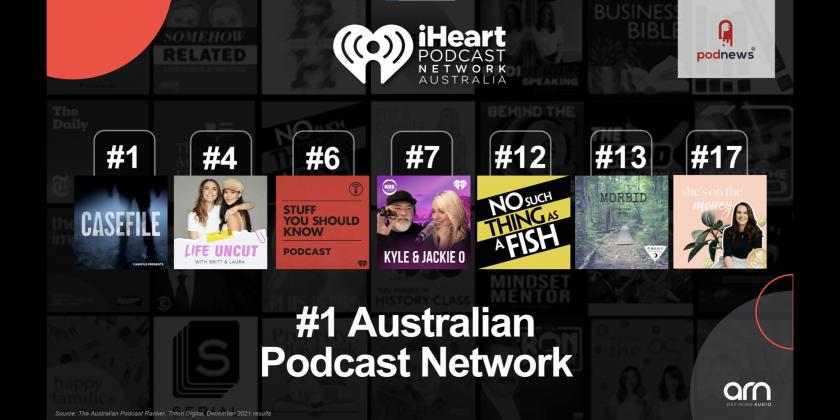 ARN's iHeartPodcast Network Australia holds top spot in podcast ranker for 20th consecutive time
Press Release · Sydney NSW, Australia ·
ARN's iHeartPodcast Network remains Australia's #1 podcast network1 for the 20th consecutive ranker with a combined 4.4 million total listeners.
Today's monthly podcast ranker results for December shows iHeartPodcast Network Australia again has the largest podcast audience in Australia with 18.2 million monthly downloads. The network also holds four of the top 10 most listened to podcasts in the country.
Audioboom's Casefile, which is part of the iHeartPodcast Network, has retained its crown as Australia's #1 most listened to podcast (772,844 monthly listeners), Life Uncut with Brittany Hockley and Laura Byrne is #4 with 392,194 listeners and Stuff You Should Know is #6 with 289,348 listeners. The Kyle & Jackie O Show remains Australia's #1 radio catch up podcast and #7 on the podcast ranker.
Further highlights in the top 20 include Audioboom's No Such Thing As A Fish (#12) and Morbid True Crime (#12). She's On The Money remains the biggest finance show (#17). ARN's iHeartPodcast Network represents an impressive 29 of the top 100 most popular podcasts in Australia and 44 of the top 150 podcasts.
ARN's Head of Digital Audio, Corey Layton said, "After an incredible year of growth for ARN's iHeartPodcast Network, we're excited to remain the #1 Podcast Network, a position we've held since the Publisher Ranker launched in 2020. 2022 is set to be even bigger with an ever-growing slate of incredible content and a few surprises instore…"
This is a press release which we link to from our daily newsletter about podcasting and on-demand. This is reprinted verbatim; we may rewrite headlines and descriptions.