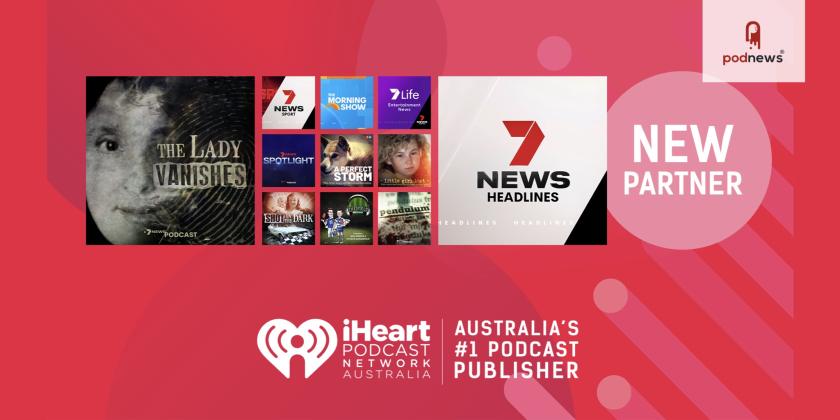 ARN's iHeart bolsters news and public affairs content via multi-year partnership with 7NEWS
Press Release ·
ARN's iHeart has announced a multi-year partnership with the Seven Network – Australia's most-watched network for news and public affairs – that sees Australia's leading podcast publisher become the exclusive sales representative for 7NEWS' diverse slate of top-rating news podcasts.
Commencing this week, this strategic collaboration with 7NEWS significantly bolsters iHeart's lineup of local news and public affairs content encompassing breaking news, interviews, entertainment and sports news, true crime, and investigative specials. Podcasts include 7NEWS Headlines, Sunrise, Pendulum, Shot in the Dark, and the award-winning true crime investigation The Lady Vanishes, which has surpassed 16 million downloads.
Commenting on the deal, Corey Layton, ARN Head of Digital Audio, said: "We are absolutely delighted to join forces with 7NEWS. This partnership perfectly aligns with our mission to deliver the best, most diverse content to listeners and brands alike. Together with 7NEWS, we aim to set new benchmarks in news and public affairs podcasting."
Seven's Network Director of News and Public Affairs, Craig McPherson, said: "We're excited to be entering into this revenue share agreement with iHeart, who we see as the most successful and innovative player in the space. We're proud that the trust viewers place in us to keep them informed with reliable and honest reporting extends across our digital platforms, including our podcast slate. We look forward to producing more high-quality, engaging content as we expand our offering in line with this new partnership."
ARN's iHeart will focus on amplifying and monetising 7NEWS podcasts, offering advertisers a unique opportunity to connect with a highly engaged audience interested in quality news and public affairs content.
The addition of the 7NEWS slate adds a further 700,000 monthly downloads to iHeart's substantial and dedicated listener base, which last month achieved over 19 million downloads and four million listeners.
Alongside The Daily from The New York Times, The Daily Aus and Your News Now – one of the world's most technically advanced news podcasts – iHeart's strength in global and local news content for both listeners and brands is undeniable.
This is a press release which we link to from Podnews, our daily newsletter about podcasting and on-demand. We may make small edits for editorial reasons.