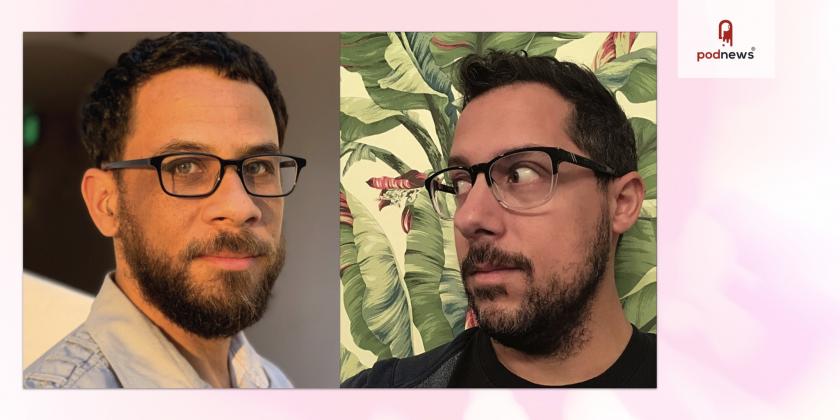 New Literary/Film Podcast: Apples to Giraffes
Press Release · Los Angeles, CA, USA ·
Pictured: Jonas Madden-Connor & François Vigneault, the hosts of Apples to Giraffes
Apples to Giraffes is a new podcast dedicated to the art of adaptation: The transformation of novels into films, movies into comics, video games into TV shows, and much more. In each episode, award-winning comic book creators Jonas Madden-Connor and François Vigneault take a deep dive into a piece of narrative art, successes and failures in previous adaptations, and what they might do with it if they were in charge. Perfect for booklovers and film fans of all stripes, Apples to Giraffes will also appeal to anyone who enjoys a conversational yet deep discussion of the craft of storytelling.
François Vigneault says "I know that often while I am reading a book, I'll ask myself: 'How would I make this into a graphic novel, or a movie?' Apples to Giraffes is a chance to explore that idea more deeply."
Jonas Madden-Connor adds "It's been a fun exercise to think about the pieces that make stories work and how those pieces can be pried apart and reassembled."
Recent episodes have tackled works such as Replay, a 1986 cult classic novel that spawned the entire "time loop" genre, Ursula K. LeGuin's gender-bending, ahead-of-its-time sci-fi novel The Left Hand of Darkness, and the ever-popular Parker novels by Richard Stark, an often-adapted crime series that will soon be headed to the screen again with Shane Black and Robert Downey, Jr. taking the helm.
Upcoming episodes include the never-adapted literary sensation The Secret History by Donna Tartt (on July 7, 2022), and the Pulitzer Prize-winning A Visit from the Goon Squad by Jennifer Egan.
New episodes of Apples to Giraffes are released every two weeks.
Listen
This is a press release which we link to from our daily newsletter about podcasting and on-demand. This is reprinted verbatim; we may rewrite headlines and descriptions.
This page contains automated links to Apple Podcasts. We may receive a commission for any purchases made.