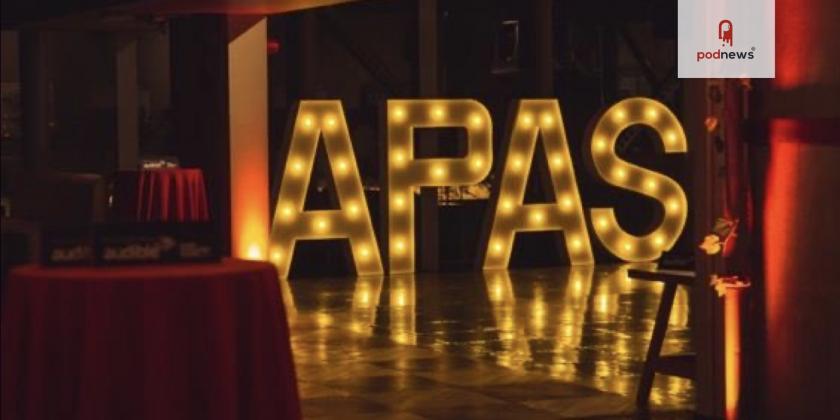 The Audio Production Awards announce Amazon Music & Wondery as Pay What You Can scheme partners
Press Release · London, UK ·
What are the APAs?
Organised by AudioUK (the trade body which champions and supports independent audio production businesses in the UK), the Audio Production Awards, sponsored by Audible, return for their twelfth year.
The Awards recognise and celebrate outstanding achievement in audio production across a huge range of audio content: podcasts, audiobooks, sound design, radio, presenting; and are open to production talent across the UK.
What is the Pay What You Can Scheme?
• In 2021, AudioUK introduced a Pay What You Can Scheme, to enable those who would find the cost of entry or cost of a ticket for the Awards a barrier to doing so. • This year, AudioUK is partnering with Amazon Music & Wondery on the scheme to help it grow and to reach even more people across the UK. The scheme is key to ensuring inclusive and equal accessibility within the industry - an ambition shared by Amazon Music, Wondery and Audio UK.
How do you enter the awards?
Entry fees have been frozen at 2018's prices of £35+VAT for AudioUK Members and £45+VAT for non-members. The Pay What You Can scheme, supported by Amazon Music & Wondery, will run for a second year.
To access the scheme please email sophie@audioproductionawards.co.uk
If you'd like to find out more about joining AudioUK, you can do so here: https://www.audi- ouk.org.uk/join-us/
Full category descriptions, eligibility criteria, and further details about the scheme can be found here: https://audioproductionawards.awardstage.com/
Chloe Straw, Managing Director of AudioUK, said: I'm delighted that we will be partnering with Amazon Music & Wondery on the Audio Production Awards Pay What You Can scheme. We introduced it to make sure that how much money a person has, or the challenges they face, are not barriers to entering or attending the awards. The partnership is key for the growth and success of the scheme.
Jess Radburn, Head of International Podcast Content at Wondery, said: It's our ambition that outstanding efforts in audio production are recognised without barriers or limitations. Initiatives like the Pay What You Can scheme build on Amazon Music and Wondery's efforts to work with the industry to support a fully inclusive, sustainably diverse podcasting and audio landscape.
A few words from previous winners… Olivia Swift, Reform Radio, Best New Podcast Producer 2021 - It can be very easy to feel like what you're making is just falling into the void, especially as a small producer in a big audio pond. So to win Best New Podcast Producer at the APAs made the hard work and emotion that we all pour into our work, feel recognised and valued. It has really spurred me on to continue creating socially conscious audio that has the potential to make a difference.
Ade Oladipo, talkSPORT, Best New Voice 2021 - For me the award was important as it showed that the work I'm doing isn't going unnoticed…especially in the industry I'm in (sports broadcasting) where there are hundreds if not thousands of us so to be singled out for my contribution was incredible. The award has helped open so many more doors, having award winner in your bio is pretty cool. Finally, the night itself was amazing, met so many people, shared contacts and I now work alongside some of the people I met that day.
This is a press release which we link to from Podnews, our daily newsletter about podcasting and on-demand. This is reprinted verbatim; we may rewrite headlines and descriptions.