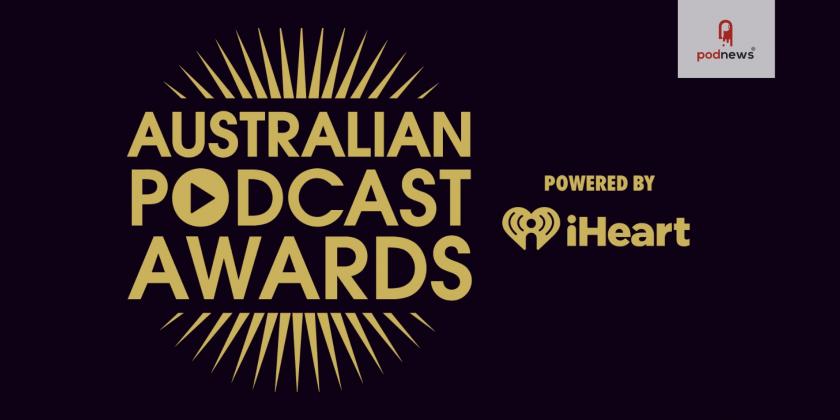 Australian Podcast Awards returns bigger and better in 2022
Press Release · Sydney NSW, Australia ·
The country's most prestigious and well recognised podcast awards, The Australia Podcast Awards (APAs) powered by iHeart, will return in 2022 – celebrating the best of the best Australian podcast and podcasting talent to emerge and gain fandom over the past year.
Over 90 judges listened to nearly 1,000 submissions in 2021, awarding gold to 29 top podcasts across categories from True Crime to Comedy and Sex & Relationships. The 2022 Australian Podcast Awards promises to be bigger and better than ever with a total of 33 award categories from Best New Podcast to Podcast of the Year and every genre-based category in between. There are also new awards including Podcast Climate Award and Best Parenting Podcast.
This year the Awards will also make it easier for independent BIPOC, Queer and Trans audio creators to enter, thanks to a partnership with the Podcasting Serioulsy Fund that provides reimbersement for entries from members of these communities.
The news of the 2022 Australian Podcast Awards comes as Australia officially overtakes the U.S. as the world's biggest podcast listening nation, and the industry continues to produce a record-number of break-through podcasts.
Matt Deegan, Director at the Australian Podcast Awards, said:
"Australia isn't just the world's biggest podcast listening nation, it's also at the forefront of incredible podcast production. We're so thrilled to bring the industry's most recognised and prestigious podcasting awards back for its sixth year. The 2022 Australian Podcast Awards promises to uncover, spotlight and champion the best of the best when it comes to Australian podcasting. We welcome podcasts big and small to enter and look forward to another year of break-through podcasting content."
The Australian Podcast Awards also announces its first wave of partners, including Gold Partners iHeart, LISTNR, Nova, Campaign, Podfollow and Podnews.
The Australian Podcast Awards launched in 2016 as a way to showcase the amazing podcast talent and content Australia has to offer. Now in its sixth year, the Awards continues to recognise the industry's most innovative and emerging podcast content across its varied categories. It also hosts an annual conference, Podcast Day 24 on October 4th in Sydney, which shares content, research and podcast industry trends.
2022 winners included Laura Byrne and Brittney Hockley's Life Uncut, Julia Gillard's A Podcast of One's Own and Brooke Boney and Linda Marigliano's Brooke and Linda's Dream Club. Other winners include true crime podcast, The Nurse, dramedy fiction podcast, Private Affairs, and pop-culture podcast, The Culture.
Submissions for the Australian Podcast Awards are now open, find out more at australianpodcastawards.com. Nominees will be selected by a judging panel of industry experts before the category winners are announced in November.
This is a press release which we link to from Podnews, our daily newsletter about podcasting and on-demand. This is reprinted verbatim; we may rewrite headlines and descriptions.
This page contains automated links to Apple Podcasts. We may receive a commission for purchases made.