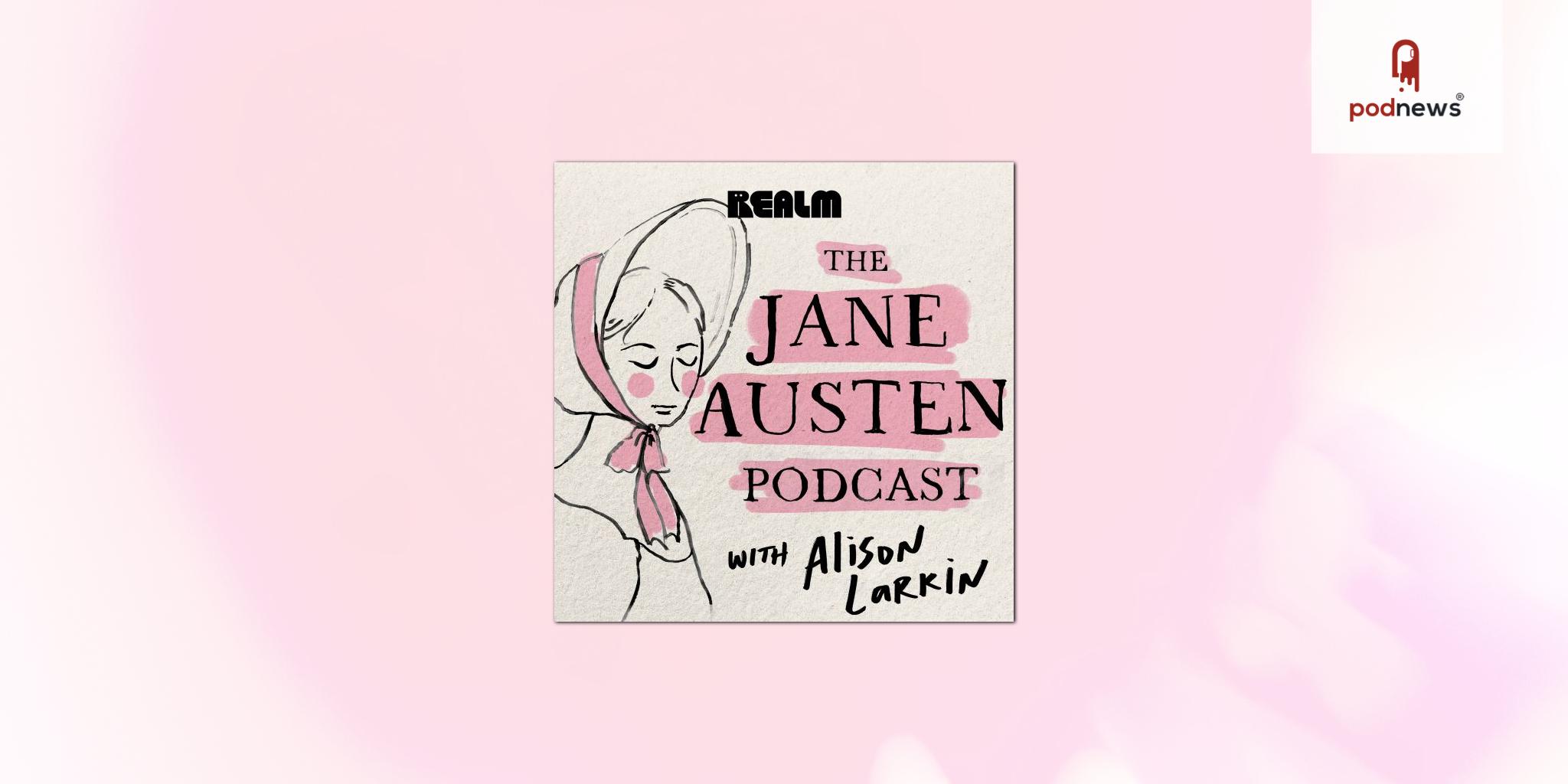 Realm announces new Jane Austen podcast, hosted and narrated by comedian Alison Larkin
Press Release · New York, NY, USA ·
Realm, the world's largest scripted podcast network with over 140 shows and 3500 hours of audio entertainment, today announced a new podcast hosted and narrated by award-winning comedian and voice talent Alison Larkin.
Each season of The Jane Austen Podcast with Alison Larkin will feature an Austen novel, beginning with the seminal Pride & Prejudice. Through reflections, commentary, and her own personal stories, Larkin showcases both her talent as a charming vocal performer and strength as a writer-comedian in every episode. The Jane Austen Podcast with Alison Larkin also features chats with actors, writers, and other interesting people who have one thing in common: a passionate love for Jane Austen. Everyone from die-hard fans to first-time listeners will find something delightful – and relatable – at every turn.
Larkin said: "I love bringing the classics to a modern audience in fun, new ways. So, when Realm approached me about hosting and co-creating a podcast with my recordings of Jane Austen's novels, I said 'YES!' I love working with the super-smart team at Realm and can't think of a more exciting way to share these great stories with listeners around the world."
Nicole Kreutter, Realm's Head of Network said: "We're thrilled to present Alison Larkin's award-winning audio stories and original commentary to Realm's millions of listeners. Having grown up in the area that inspired Austen's novels, Alison brings a unique perspective and authenticity to every minute. We can't wait for longtime fans and new listeners alike to enjoy The Jane Austen Podcast with Alison Larkin."
"Alison Larkin is a comic writer and performer and she approaches Austen as a satirist…she has genuine theatrical skill…sustained comic creations. The voice reveals all." – The New Yorker
"Listeners will be captivated from the first sentence" – AudioFile Magazine Following Pride & Prejudice, the podcast will release Austen's other works: Emma, Sense and Sensibility, Northanger Abbey, Mansfield Park, and Persuasion.
About Alison Larkin:
Alison Larkin — writer, comedian, speaker, actress, producer — is the award-winning narrator of more than 250 audiobooks, including The Complete Novels of Jane Austen and, most recently, the hilarious summer audiobook Mapton-on-Sea by Sam Maxfield! She is also the bestselling author of The English American, an autobiographical novel about an adopted English woman who finds her birth mother and Jane-Austen-like romance in the United States. As an actress she has appeared both on and off Broadway. Her voice can be heard in countless movies and cartoons, from work by the Coen brothers to The Wonderpets. She is the founder of Alison Larkin Presents, a multiple award-winning audiobook company known for easy-to-listen-to classics, including Moby Dick, Winnie-the-Pooh, Peter Rabbit and several Agatha Christie mysteries. She will perform her new solo show Grief…a Comedy at the Soho Theatre in London in November 2023 and as a TV Comedy Special in 2024. She is currently hard at work writing a new book. Alison lives, writes, and records from her home in the Berkshires, Massachusetts with her rescue dachshund Charlie in constant attendance. He particularly enjoyed listening to Alison narrate the audiobook of Mapton-on-Sea because it's got dogs in it.
About Realm
Realm is a leading audio entertainment company with an award-winning studio and the world's largest scripted podcast network. Realm's slate is anchored by #1 hit fiction podcasts and fan favorites like IF I GO MISSING THE WITCHES DID IT starring Oscar nominated actress Gabourey Sidibe; ORPHAN BLACK: THE NEXT CHAPTER and POWER TRIP starring Emmy-winner Tatiana Maslany; MARIGOLD BREACH starring Jameela Jamil and Manny Jacinto; OUTLIERS narrated by Rory Culkin; and ECHO PARK starring Harry Shum Jr.
Realm produces immersive stories with top-tier talent and companies from across the entertainment industry. Franchise partners include Warner Bros. and DC Comics on projects including the #1 Spotify podcast HARLEY QUINN & THE JOKER: SOUND MIND starring Christina Ricci and Billy Magnussen, and the official continuation of the hit TV series ORPHAN BLACK, starring Tatiana Maslany. Realm's forthcoming original slate includes partnerships with horror legends John and Sandy Carpenter, multi-award winning audio drama creator John Dryden, and TRUE BLOOD author Charlaine Harris.
Realm was co-founded by former Penguin Random House executive Molly Barton and former Obama Administration Dept of Justice lawyer Julian Yap. The Realm team and advisors include talent from CAA, UTA, Blumhouse, Warner Brothers, Spotify, NPR, Gimlet, etc. Realm shows are available as podcasts everywhere and on the Realm app, awarded "Best of the Year" by Apple. Follow Realm for updates on Twitter, Instagram and Facebook. For more information, please visit realm.fm.
Listen
This is a press release which we link to from Podnews, our daily newsletter about podcasting and on-demand. This is reprinted verbatim; we may rewrite headlines and descriptions.
This page contains automated links to Apple Podcasts. We may receive a commission for any purchases made.