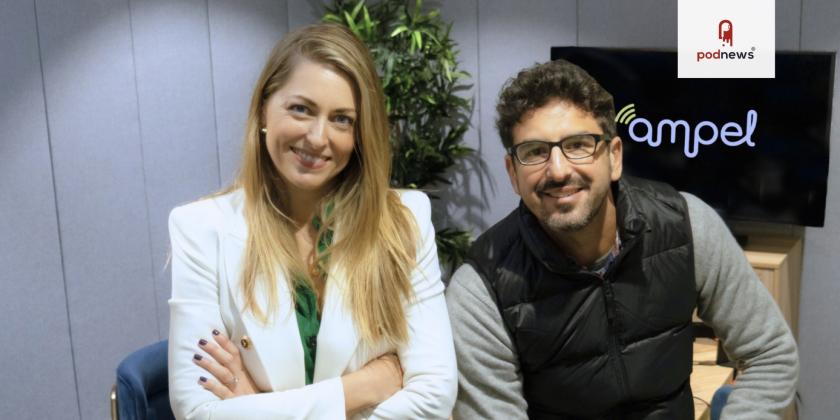 Ampel launches brand refresh and new proposition; supported by new AI-driven content production technology
Press Release · Sydney NSW, Australia · via Mohr PR ·
Audio creative agency, Ampel has refreshed its brand including a new brand proposition supported by modern AI-driven content production technology, and unveiling new roles for its senior leadership team.
The new proposition sees Ampel evolve into a specialist audio agency creating accessible audio content for clients, including podcasts, radio ads, sonic branding and audio education, specifically targeting high growth sectors such as healthcare and technology start-ups.
Ampel also introduces new AI-driven content production technology which fully automates repetitive production tasks allowing team members to free up intelligent thinking time and provide a stronger value proposition for clients.
To support the new proposition the agency unveils new roles for its senior leadership team reflecting their key areas of expertise, with Josh Butt - who founded the agency in 2021 - stepping into the role of Chief Production Officer working alongside Michelle Lomas as newly appointed Chief Strategy Officer.
Butt said working alongside Michelle to refresh the brand's offering in line with market demand is exactly where Ampel needed to be to meet its ambitious growth plans.
Butt said: "Post-COVID it became obvious we needed a more viable business model to meet market demand; not one constricted by a complex media buying landscape that relied on using comparable monetisation models to other channels, to value podcasts.
"Ampel's new proposition supports its mandate to be able to learn, flex and adapt our output to support our clients' ambitions and become a specialist audio creative agency with ambitious growth targets built for the immediate future and beyond." Butt continued.
Butt said: "In a burgeoning podcast market we had to identify the right business model to capitalise on the business opportunity. Our vision hasn't changed. Our values haven't changed. But the model we take to market has.
"Ampel's vision to support the 'little guys' remains, so our new model, process and pricing structure allows anyone access to premium audio content creation, offering our clients an unrivalled ability to communicate to niche audiences in long form."
The agency moved into Tank Stream Studios late last year providing the flexibility to explore and discover new AI tools and platforms to automate tasks, and identify smarter methodologies for producing social and promotional assets.
Butt said: "Audience growth is increasing, tech is getting smarter and the power of producing audio content quickly to help a strategy means we're already seeing great results."
According to Infinite Dial Study 2023 monthly podcast listening in Australia spiked to 43%, growing by 3% in one year.
Michelle Lomas, Chief Strategy Officer, Ampel said: "Audio is such a powerful medium, particularly the podcast space which provides unrivalled ability to communicate long-form to niche audiences. Our aim is to help brands get the most out of this highly receptive channel, whether they are stepping into radio advertising, or looking to launch their own podcast - with great content that doesn't cost a fortune to produce.
"That meant an overhaul of our strategic process and production process. We have created a unique 24-hour turn-around strategic process, not a 2 week turn around. And we don't hand off strategy to the next person to execute, the whole team is involved every step of the way to ensure we are staying true to the audience needs and brand messaging," Lomas explained.
"We work with clients and their agencies as part of a collaborative process, sitting within realistic budgets. You don't need a fortune to make audio. You actually need to have strategy and production working together so that everyone understands how audio underpins a wider content strategy. And that's exactly what our new proposition offers," she concluded.
Since the refresh, Ampel has increased its client roster to include: hipages; specialist urologist Dr Chris Love; Tank Stream Labs; Credit Savvy; Australian Institute of Company Directors; and the Immunisation Foundation of Australia.
This is a press release which we link to from Podnews, our daily newsletter about podcasting and on-demand. We may make small edits for editorial reasons.