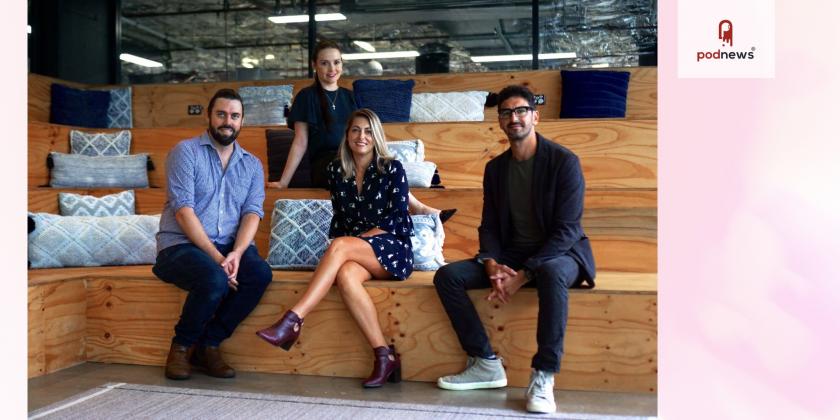 Ampel listens to the booming audio market; boosts leadership team with 2 senior hires
Press Release · Sydney NSW, Australia ·
Above: Front row L-R: Stuart Buckland, Michelle Lomas, Josh Butt. Back row: Lauren Deighton
Following a period of sustained growth, audio experience agency Ampel has added significant firepower to its leadership team, appointing Stuart Buckland and Lauren Deighton to the newly created roles of Director, Audio Production and Director, Media Partnerships respectively.
Josh Butt, Founder and Executive Producer Ampel, said he was honoured to welcome such an experienced and skilled team to Ampel, with the duo being tasked with significantly increasing the agency's scope of original content production capabilities as well as partnership & sponsorship support.
Butt said: "Our clients are increasingly demanding more from the audio space and are looking for new ways to tap into this very lucrative marketing medium.
"When they look at statistics such as audio listening is growing 50+% YOY and the average Australian listens to more than 12 hours of audio per week, they know it's the perfect mainstream format for consumers to experience interesting and entertaining content on demand. Audio audiences are sophisticated and demanding quality - podcasts that aren't well made aren't listened to," Butt concluded.
These new appointments are the first since Michelle Lomas was appointed as General Manager of Ampel in late 2021.
Lomas said: "Lauren and Stuart bring the skills, capabilities and senior support to our team to help our clients take full advantage of what audio can offer their brands and audiences. With Lauren and Stuart onboard, I can't wait to hear what brilliant audio strategies, creations and partnerships we can now produce for our clients."
Buckland's key remit will be to lead Ampel's physical audio production team in the creation of original podcasts and branded audio, ensuring client's assets can be leveraged across all paid, owned and earned media.
With more than a decade's experience in media, Buckland most recently worked at Channel 10 where he was instrumental in launching Network 10's "10 Speaks" podcast platform, managing a team of producers, creating and executing the platform's strategy.
At Ch10 he produced the platform's two biggest shows, "Where's William Tyrrell?" that had over 2 million listeners and was the number one podcast on the Apple Podcast charts during its run; and "The Professor and The Hack", which regularly featured highly in the podcast charts in the news category and was even referenced by the Prime Minister in the 2019 Mid-Winter Ball Address.
Buckland was also EP of the '10 News First Person' podcast, which won the Kennedy Award for Most Outstanding Podcast and the SA Press Club Award for Best Long-Form Radio Report or Podcast in 2020.
Lauren Deighton brings more than a decade of national and international experience to Ampel working both agency and publisher side. She has led national and global client strategies and campaigns across iconic brands such as Google, Tourism Australia, Apple, Village Roadshow, Mondelez, LVMH, Pernod Ricard, Loreal, McDonalds and Johnson & Johnson. Lauren has held various senior sales roles representing key clients at News Corp, The Urban List and VICE, and recently moved back from NYC where she held a role as Brand Partnerships Director for a global SAAS company.
Deighton said of her new role: "Leading the way in the independent audio race is exactly where I expect Ampel to be and I'm delighted to be part of the team that will be responsible for bringing clients new opportunities in paid, owned and earned media within the podcast landscape; growing audiences and driving them to Ampel's, and our client's content. It's a heady combination and I can't wait to get started."
Buckland added: "Audio and voice are engaging avenues for brands to connect with consumers, and I'm excited to be working with brands to create audio eco-systems – from customer experience, B2B & B2C podcasts, smart home device skills, internal education and communication strategies and more. This is a great time to be in the industry and to help clients tap into the ever-growing format of audio."
Buckland and Deighton's appointments come on the cusp of Ampel significantly increasing its scope of original content production, including:
New comedy podcasts featuring high profile A-List comedic talent; https://alist.com.au/
Continued production of podcasts: The Swab with Georgie Carroll & The SnortCast with Diana Nguyen
Brand funded Podcasts
Production of brand funded TV shows.
Both appointments are effective immediately.
This is a press release which we link to from our daily newsletter about podcasting and on-demand. This is reprinted verbatim; we may rewrite headlines and descriptions.