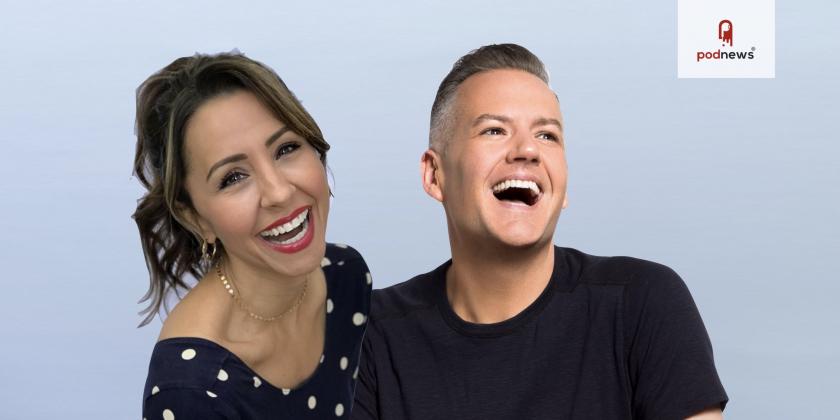 Ross Mathews and Nikki Boyer to co-host The Ambies 2022
Press Release · Los Angeles, Los Angeles County CA, United States ·
The Podcast Academy, the preeminent professional podcast organization, announced today that Straight Talk with Ross Mathews' dynamic duo Ross Mathews and Nikki Boyer (2021 Podcast of the Year winner; Dying for Sex) will co-host its second annual Awards for Excellence in Audio ([The Ambies](https://www.ambies.com/)) on March 22. The ceremony will be streamed LIVE on YouTube and Twitch from The Mayan Theater in Los Angeles, CA at 6PM PT/9PM ET. This year's Ambies are presented by Wondery with additional sponsor support from Audible, Audacy, PRX, Tenderfoot TV, The Hollywood Reporter, and Loeb & Loeb.
Mathews and Boyer stated, "As former lovers, it will certainly be awkward for us to work together, but we're professionals and refuse to let our unbridled passion get in the way of us hosting the Ambie Awards this year. We can't wait!"
"The chemistry that Ross and Nikki share on their podcast is undeniable," said Chairman of the Podcast Academy, Donald Albright, President & Co-Founder of Tenderfoot TV. "Their charm, wit, and humor will certainly make for an evening of laughter as we honor the best of the best in the industry. We can't wait to bring them from behind the mic to in front of the camera for all audiences to see at The Ambies."
Ross Mathews has been a television staple since he began his career on The Tonight Show in 2001. Since, he's gone on to host and guest star on countless shows, including Chelsea Lately, E! Red Carpets, and Hello Ross. Mathews can currently be seen daily on The Drew Barrymore Show as well as the multiple Emmy-winning worldwide phenomenon RuPaul's Drag Race as a judge and producer. Mathews is also the best-selling author of two books: Name Drop: The Really Good Celebrity Stories I Usually Only Tell at Happy Hour and Man Up!: Tales of My Delusional Self-Confidence.
Nikki Boyer is a three time Emmy® award-winning TV host, producer, actress and podcaster. She created, hosted, and served as an executive producer on the award-winning Wondery podcast, Dying for Sex, which won the 2021 Ambie Award for Podcast of the Year --- and was named as one of Apple's favorite podcasts of 2020. She made her mark as the host of Yahoo!'s Daytime in No Time, which made her the most watched woman on the web at the time, as well as What You Missed for Hearst Digital. Boyer has also appeared numerous times, both as a guest and guest host, on The Wendy Williams Show. In between hosting gigs, Boyer maintains an acting career with appearances in shows such as Gilmore Girls, 90210, Lie to Me, The L Word, Malcolm in the Middle as well as starring roles in films such as Coyote County Loser, Jesus People and most recently, Fame-ish. Next up, Nikki will be hosting Wondery's new weekly podcast, Call Me Curious, where she will dive into all the things you've heard about but don't really know about.
The Ambies celebrate excellence in podcasting and elevate awareness and status of podcasts as a unique and personal medium for entertainment, information, storytelling and expression. The ceremony will highlight 178 nominees across 25 categories with winners to be selected by every voting member of The Podcast Academy — in addition to a Governor's Award. Eligible new members will be able to vote to determine this year's winners if registered by February 14. As part of the Podcast Academy's commitment to ensure its membership represents the vast and diverse industry, they have partnered with Spotify to sponsor membership scholarships. More information may be found at www.thepodcastacademy.com/join-the-community. Nominations for The Ambies will be announced on February 14.
Last year's winners featured activists, award-winners, bestselling authors, luminaries and renowned journalists. In addition to Boyer's Dying for Sex win for Podcast of the Year, winners also included Tessa Thompson (Best Performer in Audio Fiction; The Left Right Game), Wind of Change which took home the most Ambies with three wins (Best Podcast Host, Best Reporting, Best Script Writing - Nonfiction), Driving the Green Book (Best History Podcast), plus much more.
ABOUT STRAIGHT TALK WITH ROSS MATHEWS
Featuring Ross Mathews as the go-to guy for anyone who needs a BFF to give them guidance, direction or a good ole' slap in the face, Straight Talk (Advice & LOL's from the Gay Best Friend You Wish You Had and Know You Need) might be the most interactive podcast ever. Tackling relationships and dating, friendship and beyond, no topic is off limits or too taboo.
ABOUT THE PODCAST ACADEMY
Founded in February 2020, The Podcast Academy is a not-for-profit professional membership organization that celebrates excellence in podcasting and elevates awareness of podcasts as an indispensable medium for entertainment, information, and creative expression. It values individual and organizational creators alike, of all backgrounds and means, and defines achievement through the values of quality, creativity, innovation, inclusion, and impact. The Podcast Academy provides community, professional development, and industry connections through inclusive, dynamic programming. For more information about The Podcast Academy, please visit www.thepodcastacademy.com and follow/like/subscribe on Instagram, Twitter, Facebook, YouTube and Linkedin.
Listen
This is a press release which we link to from our daily newsletter about podcasting and on-demand. This is reprinted verbatim; we may rewrite headlines and descriptions.
This page contains automated links to Apple Podcasts. We may receive a commission for any purchases made.