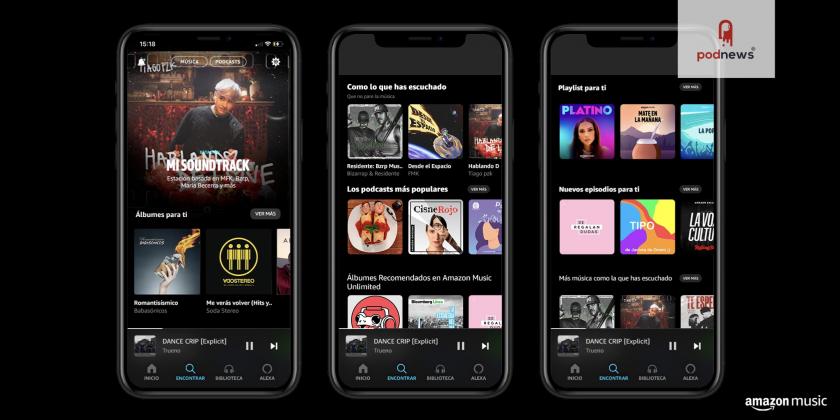 Amazon Announces the Launch of Amazon Music for Argentina, Giving Customers Access to Millions of Songs
Press Release · Buenos Aires, Argentina ·
Amazon today announced the launch of Amazon Music for Argentina, bringing music fans millions of songs streaming in the highest-quality audio, thousands of locally programmed playlists and stations, top podcasts they already know and love, and new Original shows produced exclusively for Amazon Music.
Beginning today, customers can access Amazon Music Unlimited, the music-subscription tier with unlimited access to more than 90 million songs in high definition and millions of songs in ultra-high definition, the highest-quality streaming audio available, ad-free and on-demand. Music fans can also access an ad-supported selection of top playlists and thousands of stations for free, no subscription or credit card required.
With Amazon Music, listeners will enjoy chart-topping releases from Argentinian and international artists, including Bizarrap, Soda Estereo, Cazzu, Luciano Pereyra, and Lali, along with locally curated playlists and stations developed specifically for today's music fan in Argentina. To learn more about Amazon Music and begin a three-month free trial of the Unlimited tier today, visit www.amazon.com/amazonmusicar.
"We're so proud to continue to expand the reach of Amazon Music in Latin America and bring fans more ways of engaging with their favorite artists, both new and current favorites," said Federico Pedersen, director of Latin America for Amazon Music. "Argentina has a rich and diverse cultural heritage that is reflected in its musical talent. We're excited to bring customers a wide range of locally and globally curated content, including podcasts, playlists, and stations."
Amazon Music customers can choose from a diverse selection of locally curated playlists and stations covering popular genres specific to the region, including rock, cumbia, folk music, and reggaeton, as well as new music from international artists rising on the global charts. Starting today, Amazon Music listeners can begin streaming the following playlists:
Cumbia al Sur: A playlist featuring weekly releases of Argentinian cumbia, including artists like Damas Gratis, Los Pibes del Penal, and La T y la M.
Flow Argento: A new global playlist with new Argentinian Trap and Rap releases with hits by artists like Bizarrap, Duki, Tini, Nathy Peluso, and Nicki Nicole, among others.
Platino: A global playlist updated every Friday with the hottest Latin hits by artists like J. Balvin, Paulo Londra, María Becerra, and many more.
Hecho en Argentina: Featuring an expertly curated list of local artists across different genres, including Babasónicos, Auténticos Decadentes, Bándalos Chinos, Fito Paez, Trueno, and more.
Clásicos Rock Argentino: A playlist featuring the great heroes of Argentinian rock who have triumphed throughout the decades, such as Soda Stereo, Charly García, Vicentico, Andrés Calamaro, Spinetta, Ratones Paranóicos, and more.
Mate en la Mañana: Upbeat music to accompany your morning mate. Get pumped for the day with artists such as Dua Lipa, The Weeknd, Imagine Dragons, Calvin Harris, Diplo, and more.
With Amazon Music Unlimited, customers can stream music in HD and Ultra HD sound as well as spatial audio on multiple devices, including their existing headphones, with no special equipment required and at no extra cost to their subscription. With Amazon Music Unlimited, customers can stream more than 90 million lossless HD songs, with a bit depth of 16 bits and a sample rate of at least 44.1 kHz (CD quality). Customers can also stream more than 7 million songs in Ultra HD (better than CD quality), with a bit depth of 24 bits and a sample rate up to 192 kHz, which reveals even more nuances that were once lost in files compressed for digital streaming.
All customers, no matter the streaming tier, will have access to millions of podcast episodes at no additional cost. Since Amazon Music launched podcasts in 2020, it has become a premier destination for podcast listeners and creators. Popular Spanish-language shows such as La Estrategia del día Argentina, Anfibia Originales, Psicología al desnudo, La Selecta, Serie Canelones, TIPO de Jacinta Oromí, Se Regalan Dudas and La Voz de la Cultura, are now available in Argentina, along with millions of additional episodes, with more being added all the time. Podcasts from leading media partners COPESA, RDF Media, Radio Cooperativa, National Geographic, Sonoro, and TED in Argentina will be available globally on Amazon Music, including in Argentina and anywhere the service is currently available. Original shows produced exclusively for Amazon Music in Spanish in Argentina will be launching in the coming months.
Customers can listen to new singles and albums, playlists, and stations in many ways, including on the go with the Amazon Music app, available for offline playback on mobile devices, anytime and anywhere, without an internet connection. All Amazon Music customers also have the ability to ask for music on any Alexa-enabled device, including in the Amazon Music app for iOS and Android, including by mood, era, genre, and title. To access Alexa within the Amazon Music app, simply use the push-to-talk function within the Amazon Music app for iOS and Android on connected mobile devices and tablets. With Alexa in the Amazon Music app, listeners can utilize the power and simplicity of voice functionality, wherever they are. Listeners will find brand-new music by regional and trending artists from around the world on the "Home" tab, as well as personalized recommendations based on their listening.
In addition, through the partnership between Amazon Music and Twitch, the livestreaming functionality from Twitch is integrated into the Amazon Music app, enabling fans to engage with artists in brand-new ways and move seamlessly between livestreams and recorded music. Artists are able to connect live with Amazon Music customers, providing music fans with the best live in-app experience possible.
Fans will have a variety of ways to discover artist livestreams within the Amazon Music app, including a push notification from artists they follow when they go live on Twitch, and through the new "Live" browse page. Amazon Music has also made it simple for artists to link their Twitch channel with Amazon Music, using the Amazon Music for Artists app. Artists can visit artists.amazonmusic.com/live for more information about the feature, step-by-step visuals outlining how to connect their Twitch channel, and more.
New customers can now sign up for a free, three-month trial of Amazon Music Unlimited for a limited time before choosing from three plan options. Amazon Music Unlimited is available at the Single Device Plan, which allows unlimited streaming in a single Echo International device for ARS $99/month, the Individual Plan for ARS $279/month, or the Family Plan, which allows up to six members of the same family to use one subscription, for only ARS $489/month, all plus applicable taxes. For more information about Amazon Music, customers can visit www.amazon.com/amazonmusicar and follow @amazonmusicar on Instagram and Facebook.
This is a press release which we link to from our daily newsletter about podcasting and on-demand. This is reprinted verbatim; we may rewrite headlines and descriptions.