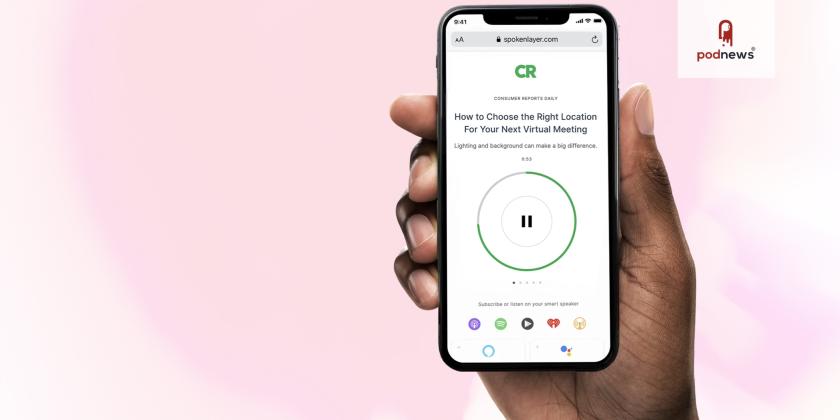 SpokenLayer Signs Exclusive Deal with Airwave
Press Release ·
Airwave podcast network has signed a distribution deal with SpokenLayer including marketing and programmatic monetization of 24 podcasts from major media brands like The History Channel, WIRED, Fast Company, IGN, TechCrunch, and more.
Airwave has quickly built a reputation as the go-to network for smart podcasts for the "constantly curious" listener and has had success with shows in the business, science, history, kids, and entertainment categories. The deal with SpokenLayer expands Airwave's existing footprint in these categories and gives the network a significant new presence in tech and news.
The deal includes current SpokenLayer productions This Day in History, What's New with WIRED, TechCrunch Daily Crunch, WIRED Science, Yahoo! Finance, AccuWeather Daily, WIRED Business, WIRED Security, IGN Daily Briefing, TechCrunch Industry News, Engadget News, TechCrunch Startups News, Real Simple, The Dallas Morning News, Engadget Morning Edition, SoFi Daily Podcast, Transport Topics, Work Smarter by Fast Company, New York Daily News, Inc., IGN Game Reviews, IGN Game & Entertainment News, IGN Movie Reviews, and Shadow Realm.
Ben Mathis, Head of Content and Partnerships for Airwave Media says "Both listeners and advertisers have been gravitating toward shorter, more frequent content since the pandemic, and SpokenLayer produces a remarkable roster of quality, daily podcasts with some of the best names in the business. We are very proud to work with such talented producers and some of the most trusted media brands in the world"
"We're excited to partner with Airwave, a collaborator that really understands the curious, informed consumer and knows how to build an audience with a listening habit. We're so excited to bring our portfolio of great content to their network of smart educational podcasts. They've worked with some of the best brands, and we're delighted to bring our great portfolio of content to Airwave and to their audience." said Lauren Nagel, SpokenLayer's CEO and Chief Creative Officer.
This is a press release which we link to from Podnews, our daily newsletter about podcasting and on-demand. We may make small edits for editorial reasons.