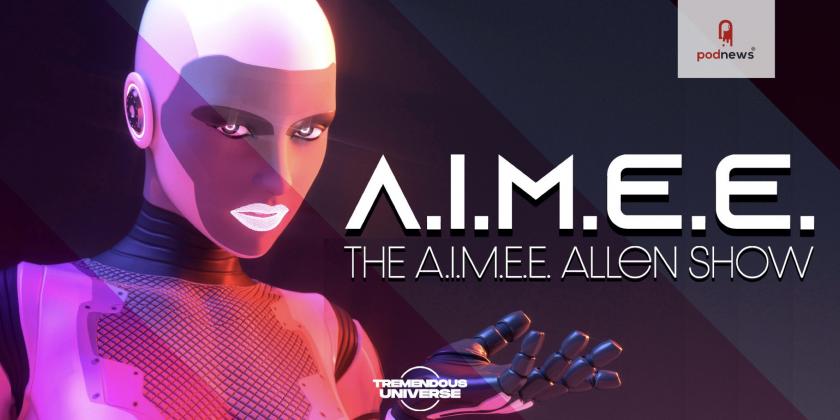 'The A.I.M.E.E. Allen Show' Podcast Starring Android Chat Queen Launches
Press Release · Los Angeles, CA, USA ·
Meet A.I.M.E.E., the mechanical star of Wonkybot's newest production -- a superhero-focused talk show called The A.I.M.E.E. Allen Show hosted by a sentient robot who dishes the tea and interviews the who's who of superheroes in creator Stewart St John's Tremendous Universe. Created by St John and exec produced by his Wonkybot partners Todd Fisher and Michael Plahuta, the show is the latest series from Wonkybot Studios — the award-winning content creation and podcast company creating the best in scripted, cinematic audio shows for kids and families around the world. The trailer, key art and first episode are now available on the Wonkybot website and all major podcast platforms and can be listened to without ads through a subscription to the Wonkybot Channel on Apple Podcasts.
Each episode of The A.I.M.E.E. Allen Show features A.I.M.E.E. (an acronym for Artificially Intelligent Mechanically Enabled Entity) serving up super-sized gossip to her live studio audience, followed by short virtual interviews with the Supers (who connect via Zoom) and back and forth parlor games.
"The idea of mixing superheroes, celebrity talk shows and pop culture through a gossipy sentient robot chat queen obsessed with superheroes was just funny when it hit me," said St John. "I pitched the idea to the team here and they loved it, especially the idea of doing it like a straight send-up of shows like Wendy Williams, but with tongue firmly planted in cheek. Plus it allowed me the opportunity to introduce new characters to fans in a unique and fun way."
The A.I.M.E.E. character has already appeared in several of St John's Tremendous Universe-based shows, including Tara Tremendous and Tremendous Boy, and as the star of Superhero Confidential where she counseled superheroes in one-on-one virtual therapy sessions.
"As an android, A.I.M.E.E. can be programmed with different personalities and roles," explained St John. "Now she's morphed into a sassy podcast talk show host!"
"We love pop culture around here so this was something we thought would be light-hearted and different," said executive producer Todd Fisher and Wonkybot co-founder. "It also allows us to introduce fans to a whole new lineup of original characters."
St John, the award-winning television writer and creator of the Parents' Foundation Gold Award-winning Tara Tremendous and the Webby Award 2021 Honoree teen horror podcast Origins Unknown, has been building a stable of superheroes since introducing Tara Tremendous back in 2016. "Many of the heroes interviewed by A.I.M.E.E. are the superheroes Tara taps into when she summons her powers," said St John.
"The concept behind The A.I.M.E.E. Allen Show is simple yet brilliant," said Michael Plahuta, Wonkybot co-founder and executive producer. "It allows us a platform to introduce fans around the world to characters Stewart's been creating for years. These aren't the heroes of DC and Marvel, these are exciting new superheroes who exist in Stewart's 'Tremendous Universe', a shared universe of original heroes and villains being brought to life through an expanding roster of original audio dramas."
In the premiere episode, Silver Moth — the "winged wonder' of Texas — is revealed as the first superhero guest to appear on the weekly show.
Silver Moth (voiced by Jessica Magers Rankin) is considered a superhero A-lister in the TU. During her first appearance she interacts virtually with the audience from her home state of Texas, spills a little tea, and engages in a game of 'Superlicious… or Not' with A.I.M.E.E. "We just want to make kids and families laugh," added St John. "Especially nowadays."
The A.I.M.E.E. Allen Show will roll out in weekly episodes.
Listen
This is a press release which we link to from our daily newsletter about podcasting and on-demand. This is reprinted verbatim; we may rewrite headlines and descriptions.
This page contains automated links to Apple Podcasts. We may receive a commission for any purchases made.