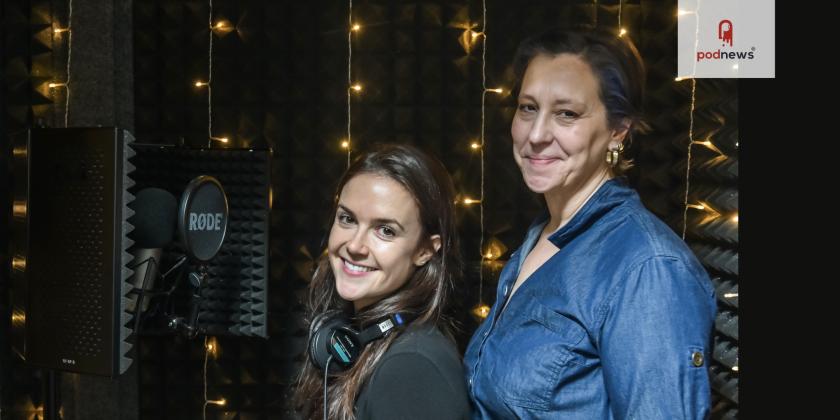 Original Radiolab EP Ellen Horne launches podcast "Admissible: Shreds of Evidence" with iHeartPodcasts and VPM
Press Release · New York, NY, USA · via pod.draland ·
Ellen Horne (above right) who was the executive producer of award-winning podcast Radiolab for over a decade (2003-2015), is launching a new investigative podcast, Admissible: Shreds of Evidence, hosted by reporter Tessa Kramer (above left) and co-produced by VPM (Central Virginia's public media station) and iHeartPodcasts.
The series, which launched February 7, 2023, delves into the story of 13 men who were exonerated thanks to the discovery of biological evidence preserved by forensic scientist Mary Jane Burton and stashed away for decades in a Virginia records facility. Burton was hailed as a hero for saving the evidence, but when a former coworker disputes that narrative, a pattern of questionable practices and shadowy motives begins to arise.
"When we began investigating allegations of a cover-up within the Virginia Department of Forensic Science, it became clear to us that this story was much bigger than one forensic scientist," Horne recalls; this project emerged from the reporting Kramer conducted for her master's thesis at Columbia Journalism School (2019); Horne had served as an advisor. Kramer's interest in the criminal legal system stemmed from her work on the CNN documentary series Death Row Stories.
"In so many stories about the criminal legal system, forensic science is one chapter in a bigger story – one scene in a police procedural or one episode in a true crime podcast," said Kramer. "What I love about our first season of 'Admissible' is that the crime lab is the story. Through my reporting, I've learned so much about what actually happens in a forensic lab, and I hope that listeners – especially true crime lovers – will come away with new questions about evidence and proof."
"Admissible: Shreds of Evidence" will appeal to discerning listeners who are both skeptical of sensationalized treatments of violent crime and invested in survivors getting the justice they deserve. While this story deals with sexual assault, it does so from a rigorous, responsible, and purposeful place.
Horne applauds the host as the engine behind the series' enterprise reporting: "Host Tessa Kramer is one of the most committed, dogged reporters I've ever known. She's motivated by a dedication to fairness. When we learned how these wrongful convictions had a root cause in implicit bias, often disguised as objective science, we knew this story needed to be told. Plus, Tessa and her reporting partner, Sophie Bearman, reported the hell out of this."
In the end, Horne hopes this series will have real impact: "As a native Virginian, I'd like to see a thorough reckoning in my home state. Whether it plays out as either increased accountability legislative or judicial action is not my role to decide. On a national level, we all need to take a deeper look at the mechanisms of a system that historically cares more about convictions than truth."
"Admissible: Shreds of Evidence" will be the inaugural season of an ongoing series investigating the misuse and manipulation of evidence in the criminal legal system. The Admissible team is currently reporting new seasons, including a recent retrial of the 1998 Jensen homicide case in Wisconsin, controversies in ballistics analysis, and a deep dive into forensic genealogy.
"Admissible: Shreds of Evidence" is distributed by iHeartPodcasts.
Listen
This is a press release from pod.draland which we link to from Podnews, our daily newsletter about podcasting and on-demand. This is reprinted verbatim; we may rewrite headlines and descriptions.
This page contains automated links to Apple Podcasts. We may receive a commission for any purchases made.