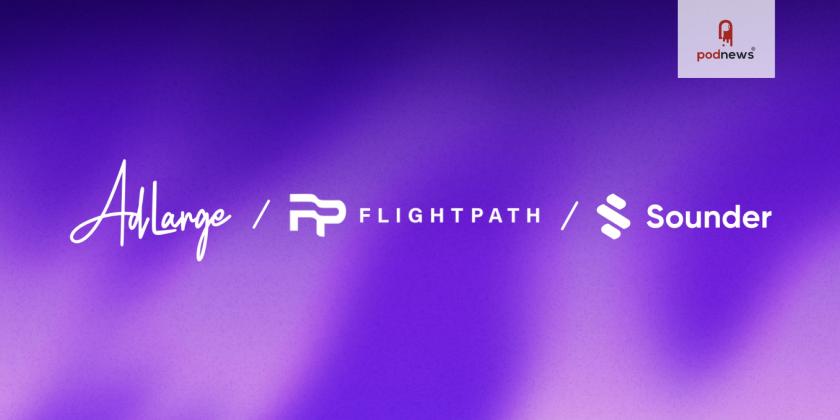 AdLarge, Flightpath, and Sounder Announce State-of-the-Art Integration for Seamless Campaign Execution
Press Release · New York, NY, USA ·
AdLarge, Flightpath, and Sounder are thrilled to announce a first-to-market, groundbreaking integration that is set to revolutionize the podcast advertising industry. Leveraging the strengths of each platform, this collaboration brings together cutting-edge technology, brand safety, contextual targeting, and customized campaign execution to elevate podcast advertising campaigns to a new level.
Sounder, known for accurately classifying publisher's content for brand safety, suitability, and contextual relevance, has further expanded its capabilities by integrating with Flightpath. This integration enables AdLarge to tap into Flightpath's Sales Availability Dashboard for campaign forecasting and planning, unlocking a new level of innovation and effectiveness for ad placement for all clients
Key Integration Highlights:
Precision and Trust at Scale: Target contextual and/or brand-suitable inventory across AdLarge's full catalog that enables advertisers to target their message across relevant and suitable content bringing immeasurable value and security to the ad buying experience for the marketplace.
Seamless Campaign Execution: The integration simplifies the advertising process, making it more efficient and user-friendly. Publishers can now forecast advertising tags and navigate the complexities of advertising campaign execution with confidence and ease.
Enhanced Transparency and Accountability: AdLarge, long known for its commitment to transparency and accountability, and the first to partner with Flightpath, continues to deliver on its promise to advertisers.
"We are committed to providing the most effective and brand-suitable advertising options to our clients," said Ilwira Marciszek, SVP of Revenue Operations and Digital Sales for AdLarge. "Our partnership with Flightpath and Sounder is yet another way we are bringing to market tools that create innovative and unmatched solutions, transparency and continue to build trust within the entire process of podcast ad sales."
Brittany Hall, Sounder's Vice President of Sales and Client Success, added: "This collaboration marks a significant milestone in the world of advertising, offering advertisers unprecedented control, precision, and efficiency in their campaigns, the same way they can in other mediums like display and video."
"AdLarge is a proven leader in the industry. By bringing together two complementary partners like Sounder and Flightpath, we can work together to create significant value for the agencies and brands that AdLarge serves," remarked Flightpath CEO and Founder, Sean Howard.
This is a press release which we link to from Podnews, our daily newsletter about podcasting and on-demand. We may make small edits for editorial reasons.