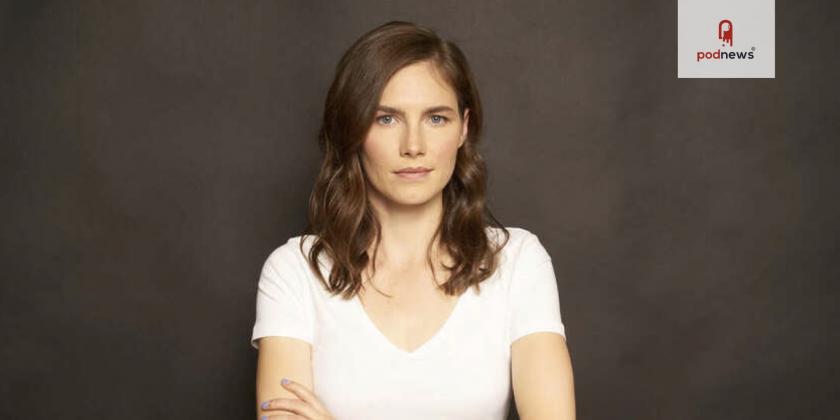 Adalyst Media Adds Labyrinths: Getting Lost With Amanda Knox To Podcast Roster
Press Release ·
Adalyst Media, a network of podcasts with predominantly female audiences, has added Labyrinths: Getting Lost with Amanda Knox to its roster. The series, co-hosted by Amanda Knox and Chris Robinson, delves into stories of getting lost and found again through compassionate interviews, philosophical rants, and playful debates with fascinating people. Previous episodes of Labyrinths have featured guests such as Malcolm Gladwell, Yasmine Mohammed, Dave Navarro, Michael Pollan, and Levar Burton.
Labyrinths host Amanda Knox is an exoneree, journalist, public speaker, and author of the New York Times best-selling memoir Waiting to Be Heard. Between 2007 and 2015, she spent nearly four years in an Italian prison and eight years on trial for a murder she did not commit. She has since become an advocate for criminal justice reform and media ethics. She sits on the board of the Frederick Douglass Project for Justice.
Co-host Chris Robinson is a Boston University and Hunter College MFA graduate, a MacDowell Colony Fellow, Yaddo fellow, and a Yale Younger Poets Prize finalist. He is the co-author, with Gavin Kovite, of War of the Encylopaedists, called "captivating" by The New York Times, and Deliver Us, a Foreword Indies Book of the Year finalist.
Reviewers of Labyrinths have said:
"One of the most thought-provoking and honest podcasts I have ever listened to. My absolute favorite!"
"Amanda's perspective and experiences make this podcast so deep and thought provoking. Christopher's clear kindness and empathy expresses stories free of mansplaining. They deliver a great podcast - episode 5 could potentially change your life."
"I am so in love with this podcast. Amanda Knox is so smart and incredibly compassionate…she and Chris tackle uncomfortable topics in an effort to help the listener move past prejudices. She is well equipped to travel these labyrinths with her guests."
"'Labyrinths: Getting Lost with Amanda Knox has a track record of high quality, in-depth storytelling, and we are so excited to welcome this show to the Adalyst network of podcasts," said Margaret Ables, co-founder of Adalyst Media.
"Labyrinths isn't just about being lost, it's about finding people to connect with," said Amanda Knox, host of Labyrinths. "We're excited to reach new audiences through Adalyst Media as we continue to build our community of truth-seekers, soul-searchers, and storytellers."
Adalyst Media was founded in 2022 by podcast hosts Margaret Ables and Amy Wilson to offer podcasts with dedicated all-female audiences to sponsors, advertisers, and listeners alike. "It's where women come to listen," co-founder Amy Wilson explains. Each of Adalyst Media's network podcasts have hosts who develop intimate and longstanding relationships with their listeners, making their shows uniquely appealing to advertisers who wish to reach those audiences. "All of the podcasts in our network have deeply engaged female listeners," Ables said. "Their Facebook groups, pages, and Instagram communities have thousands of women who listen to the shows and then discuss episodes and share ideas with other fans. We can't wait to introduce those communities to Labyrinths."
Listen
This is a press release which we link to from Podnews, our daily newsletter about podcasting and on-demand. This is reprinted verbatim; we may rewrite headlines and descriptions.
This page contains automated links to Apple Podcasts. We may receive a commission for any purchases made.