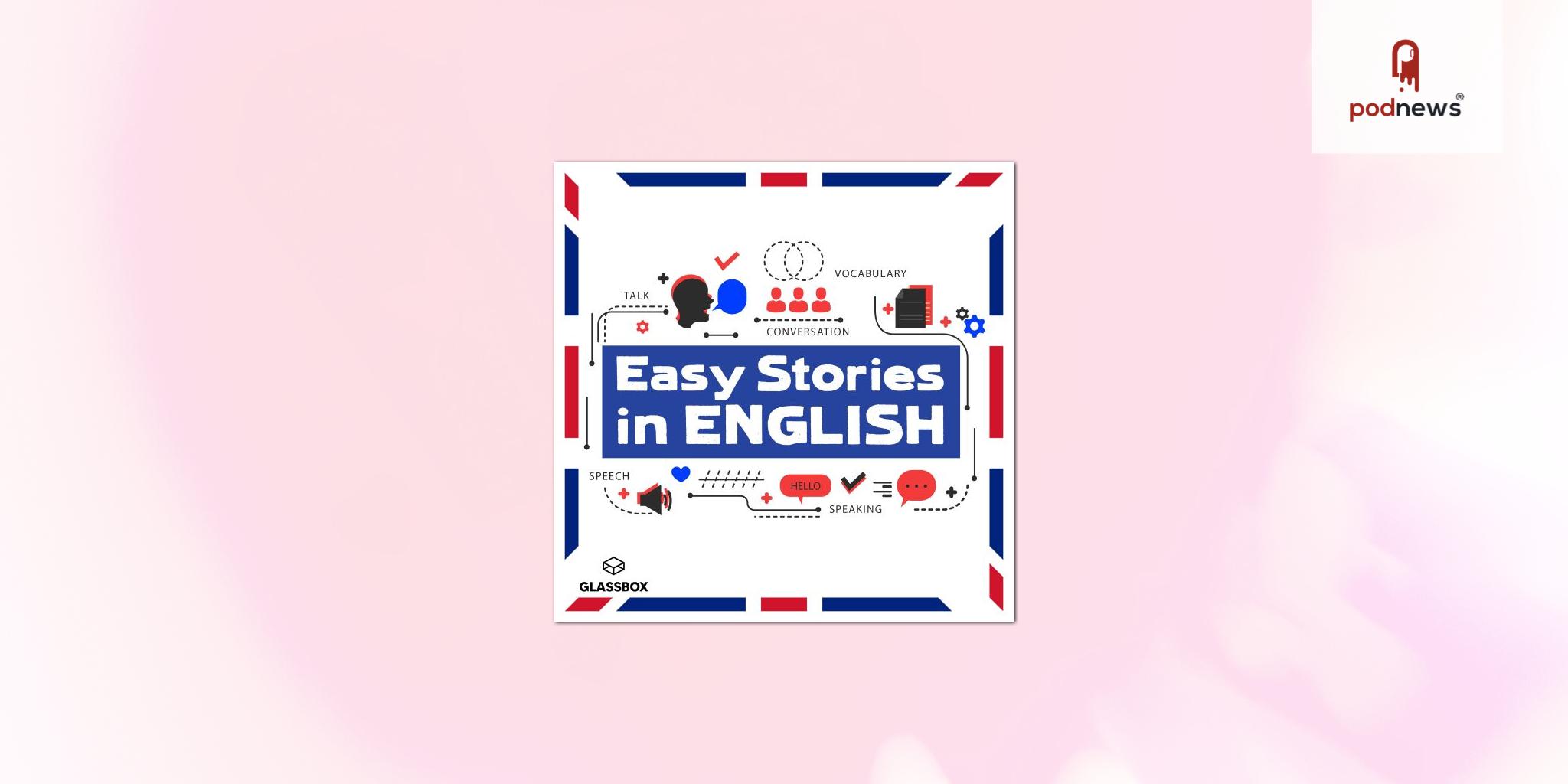 Glassbox Media bets on ESL Learners with the Acquisition of Latest Podcast, Easy Stories in English
Press Release · New York, NY, USA · via Jive PR ·
Industry-leading podcast platform for top content creators and hit shows, Glassbox Media, has announced today the acquisition of an original inclusive hit podcast series called Easy Stories in English. Hosted by non-binary and polyglot language teacher Ariel Goodbody, the show brings 173 episodes and has successfully secured an impressive 500K+ monthly downloads to the Glassbox Media platform. Easy Stories in English paves a new and nonconventional path for ESL learners to digest short stories that are hilarious, dramatic, entertaining, but never too difficult, and that are carefully adapted to various levels of English.
"I know first-hand how frustrating it can be to try and learn a language through traditional resources, so as a teacher I've always strived to make the classroom a playful and welcoming space," said Ariel Goodbody, Easy Stories in English creator and host. "When I had the idea of starting a podcast, it seemed obvious to combine my love of writing with my teaching ideals. Writing in graded language with an international audience provides unique challenges, so I'm excited to be partnering with Glassbox and reach even more people around the world."
Presenting a new way to listen to a podcast series in its entirety, each episode's difficulty level is identified in the name, directing listeners to choose based on their language level, increasing difficulty as they gain expertise in English. Some of the most recent episodes include:
"The Glassbox team is thrilled to partner with Ariel and the wonderful podcast, Easy Stories in English," said David Segura, Glassbox Media CEO & Co-Founder. "The show is modern, unique, and relevant to multiple generations and markets - and ultimately proves alternative ways of learning work, and can do so without being costly. Easy Stories in English has already added 500K monthly downloads to Glassbox Media's slate of podcasts, we can't wait to keep listening and watch the show grow."
Glassbox is an industry leader when it comes to the creator economy and supporting independent creators, which will be highlighted at Podcast Movement in Las Vegas, NV March 7th-10th. Attendees can keep an eye out for David Segura's talk on the art of podcast buying, and educating listeners on how to put your best foot forward in the podcast economy. Podcast Movement educates, informs, and brings together podcasters and industry professionals to help build a better tomorrow for the podcast industry.
Listeners can subscribe to the Easy Stories in English podcast on all major podcast platforms. For more information on the Easy Stories in English and Ariel Goodbody, visit https://easystoriesinenglish.com.
About Glassbox Media
Glassbox Media is the premier podcast platform for top content creators and hit shows. The venture-backed podcast company produces original podcasts and serves as a platform for creators wanting to accelerate their revenue and audience growth. Its creator platform reaches over 10 million monthly audio listeners, as well as 22.3 million monthly YouTube viewers and counting. Built by a passionate team of media and advertising professionals, Glassbox is led by David Segura, CEO & Co-Founder, and Chris Whitman, Chief Strategy Officer & Co-Founder. Recent successful shows across talk include Sleep Cove, Practical Stoicism, Missing, The God Pod, Everything Everywhere, and more.
To learn more about Glassbox Media, please visit: https://glassboxmedia.com/
About Easy Stories and Ariel Goodbody
Learning a language is hard. With Easy Stories in English, you can learn English the natural way, without studying lists of vocabulary or complicated grammar rules. Every week, Ariel Goodbody, author and language teacher, will present a story adapted to your level of English. The stories will be hilarious, dramatic, and entertaining, but never too difficult. If you're learning English and are tired of boring textbooks, then this is the podcast for you. To learn more about Easy Stories and Ariel Goodbody, please visit https://easystoriesinenglish.com.
Listen
This is a press release from Jive PR which we link to from Podnews, our daily newsletter about podcasting and on-demand. This is reprinted verbatim; we may rewrite headlines and descriptions.
This page contains automated links to Apple Podcasts. We may receive a commission for any purchases made.