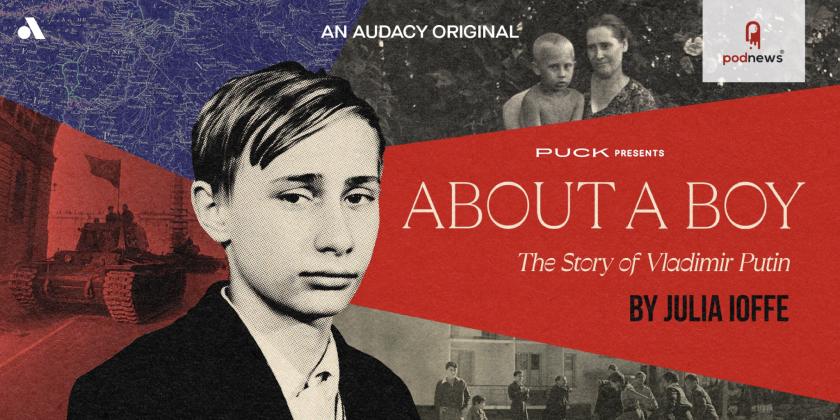 Audacy and Puck launch Putin documentary podcast series from founding partner Julia Ioffe
Press Release · Philadelphia, PA, USA · via Audacy ·
Audacy today announced an expansion of its relationship with Puck and the launch of About a Boy: The Story of Vladimir Putin — a five-part documentary podcast series exploring the forces that shaped Russian President Vladimir Putin's childhood (and life) and why it's critical to understanding what he might do next in the war against Ukraine.
The series is written and narrated by Julia Ioffe, Founding Partner and Washington Correspondent, Puck, and one of the leading journalists covering Russia and Putin.
As Puck celebrates its second anniversary, "About a Boy" marks its first-ever audio documentary and second series in partnership with Audacy following the March 2022 launch of The Powers That Be: Daily—a daily show bringing listeners inside the four corners of power in America: Wall Street, Washington, Silicon Valley, and Hollywood.
"About a Boy: The Story of Vladimir Putin" will launch with the first two episodes on October 4, 2023, on the Audacy app and everywhere podcasts are available. New episodes will be released weekly on Wednesdays through October 25, 2023.
The podcast, which delves into Putin's childhood, arrives just in time for Putin's 71st birthday (October 7).
The West's obsession with Vladimir Putin's KGB past often misses the biographical detail that can be captured by a single word: dvor. The word means courtyard in Russian, but to a Russian speaker, it is evocative of a whole universe. It was the space where Putin, like so many Soviet kids of his generation, learned the Hobbesian social code of Soviet society—and, they thought, the ways of the world. Ioffe introduces Westerners to that universe and explains why it's critical to understanding the Russian president and what he might do next in the war against Ukraine.
Guests include Ioffe's Russian-born father Michael Ioffe; David Remnick, editor of The New Yorker and former Russia correspondent; Fiona Hill, former official at the U.S. National Security Council, specializing in Russian and European affairs; Nina Kruscheva, professor of international affairs at the New School and great-granddaughter of Nikita Khrushchev; Mikhail Zygar, author of the best-selling All the Kremlin's Men; and Andrew Weiss, chair of Russia studies at the Carnegie Endowment.
"I am so excited for people to dive into this immersive, narrative experience with me, to go on this historical, anthropological journey into the Soviet baby boom—and to bring American audience into a secret everyone from the U.S.S.R. has long known, to give them an extra translation key and one of the best ways to understand Vladimir Putin," said Julia Ioffe.
"Julia has been the leading voice on this story, and we're thrilled that she's expanded to a new storytelling medium," said Jon Kelly, Co-Founder, Puck. "'About a Boy'" offers a unique mix of her exceptional journalism and personal family history, and we couldn't be more excited to partner with Audacy and share it with the world."
"Julia is the preeminent Putin chronicler of our time, and her stellar reporting and insight make "About a Boy" a fascinating and enlightening series," said Jenna Weiss-Berman, EVP, Podcasts, Audacy. "We're thrilled to expand our slate with Puck as they mark their second anniversary."
"About a Boy: The Story of Vladimir Putin" is Executive Produced by Jon Kelly, Co-Founder, Puck, and Jenna Weiss-Berman, EVP, Podcasts, Audacy. It's directed by Valerie Thomas, produced by Margo Gray, edited by Chris Basil, and mixed and mastered by Bill Schultz and Chris Basil.
Julia Ioffe is a founding partner and Washington correspondent at Puck, where she covers foreign policy and national security. She has spent the last two years writing about the war in Ukraine, including the view from Moscow and Washington. Prior to joining Puck, Julia has worked at and written for a number of prominent publications, including The Atlantic, The New York Times, The Washington Post, The New Republic, and Politico. Between 2009 and 2012, she was the Moscow correspondent for Foreign Policy and The New Yorker. She was also a Fulbright Scholar to Russia. She was born in Moscow and majored in history and Russian studies at Princeton University.
Puck is built upon an innovative and sustainable business model in which journalists are equity-holders in the company and incentivized upon success. Subscribers include leaders in entertainment, media, business, and political communities.
Listen
This is a press release which we link to from Podnews, our daily newsletter about podcasting and on-demand. We may make small edits for editorial reasons.
This page contains automated links to Apple Podcasts. We may receive a commission for any purchases made.