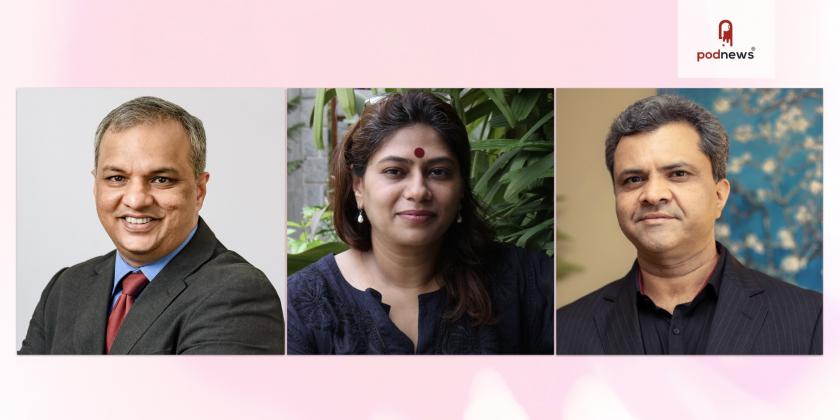 Season two of 3 Techies Banter podcast launches
Press Release · Mumbai, Maharashtra, India ·
As students, we knew that the authors who understood the subject best wrote textbooks in the most straightforward language. And "experts" who claimed to know everything managed to confuse all students with their supposed intelligent writings.
Tech can be tough. Techies bring it on themselves with jargon and complexity, but does a user have to be a techie to use their product? The 3 Techies Banter #3TB podcast ensures Tech is not Tough. You can even laugh about it!
3 Techies Banter is a technology podcast for non-techies (and techies) - anyone with a sense of humour and an inclination to want to discover new things in the world of tech. The three "techies", Samiran Ghosh, Nilesh Patankar and Sheetal Choksi, come from diverse backgrounds. We have worked across multiple industries from technology to research to content and education. Yet, we are united in our desire to make technology a topic of drawing-room conversation where everyone can have a viewpoint-diverse yet founded on facts.
Coming from the world of technology and research, we realise technology is an odd discipline in that sense. It has the potential to impact the lives of people as individuals and as a society significantly, and yet so many people know so little about it or expect so much from it - both equally dangerous.
Perhaps the central challenge associated with tech-related conversations, they decided, was that many people found technology challenging to understand and decode. It was almost always of tech, for tech, by tech. As a result, most people had little interest in technology unless it directly impacted them in some way. And the usual solution was to hit the reset button :-).
And now they are back with more fun in Season 2, making topics relatable to everyday life and enveloping them within logical themes. That looked like the coolest way to keep the fire of fun tech raging.
The new season was kicked off with the India Technology Stack - Aadhaar, UPI and ONDC. As they progress through the season, they have some cool episodes lined up and some incredible guests - Pascal Bornet, Harish Mehta and Amish Tripathi.
The India Stack is going to be followed by two really interesting themes - Everyday Tech and Tech in Art. These new themes help unpack technology that impacts our everyday lives and makes for amazing conversations. For example, did you know that the smart home market in India is $4.8 bn in 2022 and growing at a CAGR of 13.52%?
Or that technology has always been a fundamental force in the evolution of art. Have you wondered if digital art will quickly overtake all traditional art and will NFT actually allow artists to monetize art that was so far difficult to monetize?
The podcast gets between 2500-3000 downloads per month depending on the kind of topics covered and the guest featured. These numbers should pick up now - we are seeing an upward trend as the podcast catches on and we get repeat listeners.
Most of our listeners reach us through Wynk Music (57%), followed by Spotify. Currently, a large chunk of our listeners is from India (not surprising) though we have been on all continents as per the consumption data, which includes one person in the Maldives and one in Mauritius 😎
"An artist paints, draws, designs, writes, sings cooks, plays but that does not turn that work into art. The audience does" - Kazu Kibuishi
It is our audience that has helped us get featured on Amazon Prime Music, Wynk, Hungama and Jio Saavn and become a trending podcast. And we thank them and promise that we will always live up to their expectations as we launch season 2 and plan for season 3.
Listen
This is a press release which we link to from Podnews, our daily newsletter about podcasting and on-demand. This is reprinted verbatim; we may rewrite headlines and descriptions.
This page contains automated links to Apple Podcasts. We may receive a commission for any purchases made.