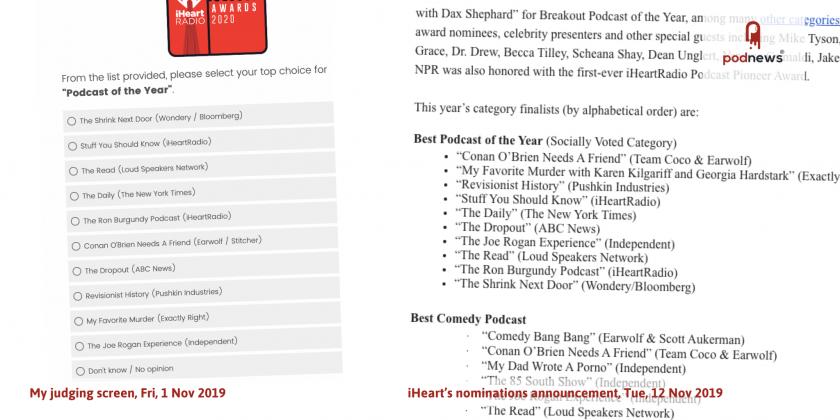 The iHeart Podcast Awards - how the nominations worked
· By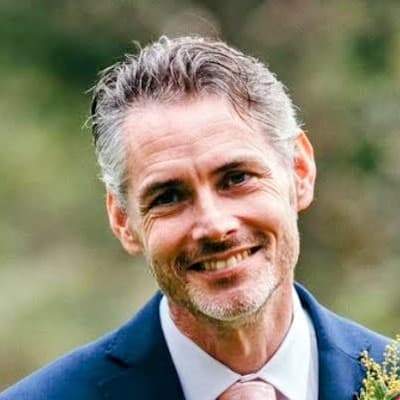 James Cridland
· 2.5 minutes to read
This article is at least a year old
After some criticism in the podcast community about the nominations to the recent iHeart Podcast Awards - iHeart's podcasts received 18 nominations - a recent issue of Inside Podcasting includes Skye Pillsbury speaking to an un-named iHeartMedia spokesperson about how the nominations were arrived at.
iHeartMedia claim that the company "[has] a panel that makes these decisions, and it's not just iHeart people" …and they then supplied a list of companies and organisations that participated, which included… (…) Adswizz, Slate, Wondery, Podnews, ESPN, IAB, Megaphone, Luminary (…)
Pillsbury is curious:
"I'm surprised that this group would collectively approve a list that blatantly favors iHeart's shows over others."
No. This group didn't.
I don't normally write personal articles in Podnews, but I'm in a difficult position. While other judges remain anonymous, I can't: because, as you probably know, I'm the only person who works at Podnews. Since iHeart has now named me in their statement, you now know that I was a judge for the iHeart Podcast Awards.
I had no input into the nomination decisions, and it is false for iHeart to claim that I did.
Over the last twenty years, I have judged a number of different awards, within podcasting and within radio. I tend to decline the offer to judge, because they're hard work.
For one recent award ceremony - still to announce their winners - I had to listen to over 20 pieces of audio (30 minutes each), and read accompanying documentation, for one category. Once I'd listened to each entry, my fellow judges (there were three) had an hour's conference call to discuss our choices. After some argument, we ended up with a collectively-agreed five nominations (including gold, silver and bronze winners), which we then submitted to the chair of judges.
This process is important, because it ensures that, when the winners of this category are announced, there are three judges who know who the winners are: there's no opportunity for a bit of careful shaping of award-winners for political reasons. And importantly, we judged all entrants, and weren't given a shortlist.
The iHeartMedia awards were different. There was no audio to listen to; no rubric of the category, no assistance in terms of what made for a winning podcast. In an email inviting us to "help us decide the winners of our key categories", we were simply given a list of preselected podcast names, and asked to tick a box. The list of podcasts that we were asked to tick were, in every category, exactly the same as the nomination list that was published two weeks later. There was no discussion with fellow judges. I don't know, for certain, how my votes will be incorporated - if at all. ("Help us decide" isn't quite the same as "Decide").
I take judging quite seriously. I respect the anonymity of being a judge during the process; and I work hard to ensure that an awards process is fair to everyone who takes part. I was flattered to be asked this year to take part in the iHeartMedia Podcast Awards.
iHeart can run their own podcast awards however they like, and people can make their own mind up about how important or representative they are.
For iHeart to claim that I had any influence on the nominations list is, however, demonstrably false.
Also read:
| | |
| --- | --- |
| | James Cridland is the Editor of Podnews, a keynote speaker and consultant. He wrote his first podcast RSS feed in January 2005; and also launched the first live radio streaming app for mobile phones in the same year. He's worked in the audio industry since 1989. |