Apple Podcasts's changes: why it doesn't see your new episode instantly
· Updated May 10, 2021 · By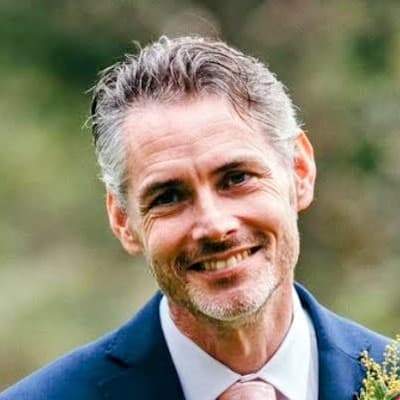 James Cridland · 4.1 minutes to read
iOS 14.5 went live in late April, and with it, a new Apple Podcasts app.
That app had many cosmetic changes - a "smart play" button, use of the word "follow" for free shows rather than "subscribe", and a forthcoming paid subscription service.
But under the hood there's an important change for how podcasts work. Let's dig in.
The Apple database
Apple runs a crawler - a thing that checks your podcast's RSS feed every so often to see if you've posted a new show.
Apple's crawler calls itself iTMS - a historical name dating from when podcasts were in the iTunes Music Store.
The information the Apple crawler finds in your RSS feed goes into its own database.
That's the information we're used to seeing on Apple Podcasts on the web, as one example.
It's also the information that your listener's podcast app sees when they search for your podcast.
How the Apple Podcasts app used to work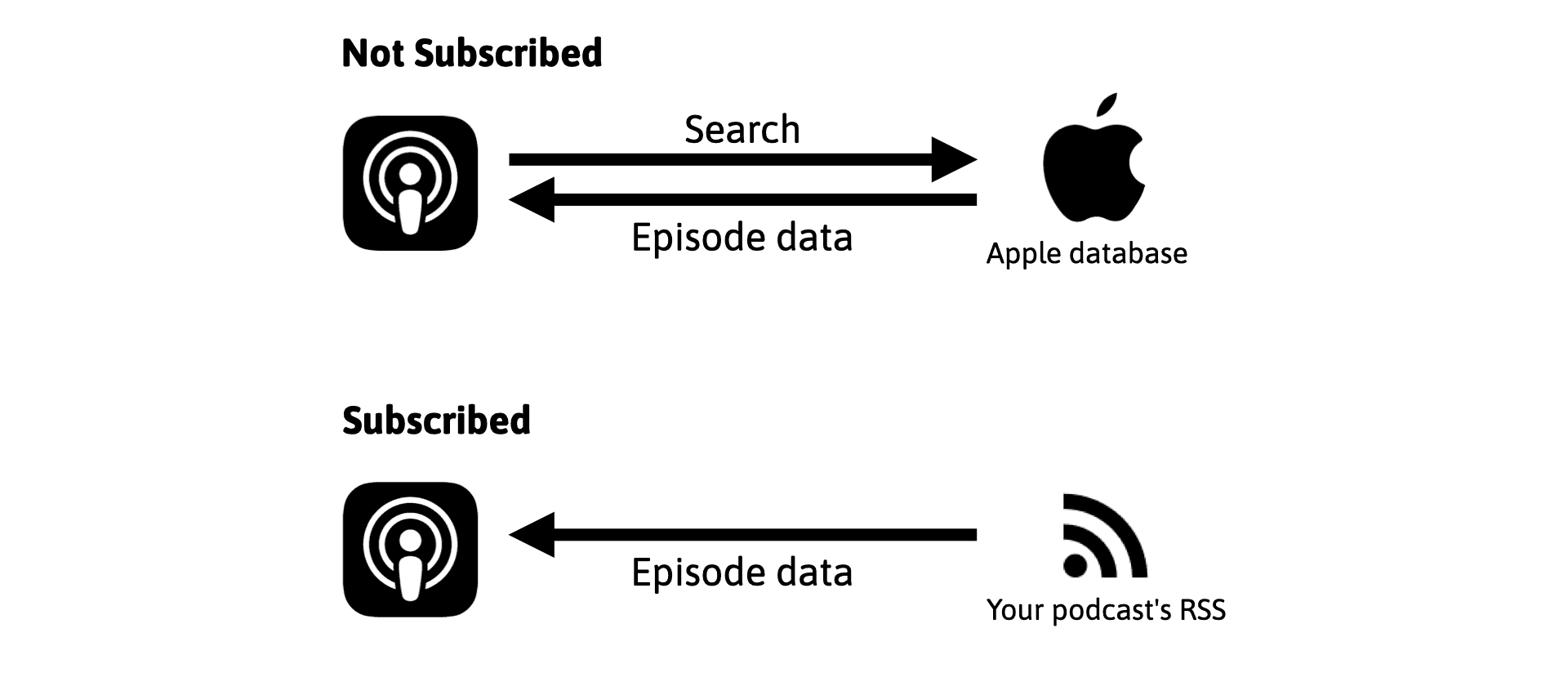 If your listener searches Apple Podcasts for shows to listen to, they're looking at Apple's database, which is kept up to date by the iTMS crawler.
After they subscribed, the Apple Podcasts app on your listener's phone would directly connect to the podcast RSS feed for your show.
If your listener refreshed the 'Library' screen on their phone, or just opened their app, the Apple Podcasts app would directly visit each RSS feed that the listener was subscribed to, to see if there were any new shows.
So, if you released a new show at 6.00am, if your listener opens their podcast app at 6.01am, your listener would see your new show.
And, if Apple removed your show altogether from their directory, it didn't matter: your listener would still be using your RSS feed.
How the Apple Podcasts app works now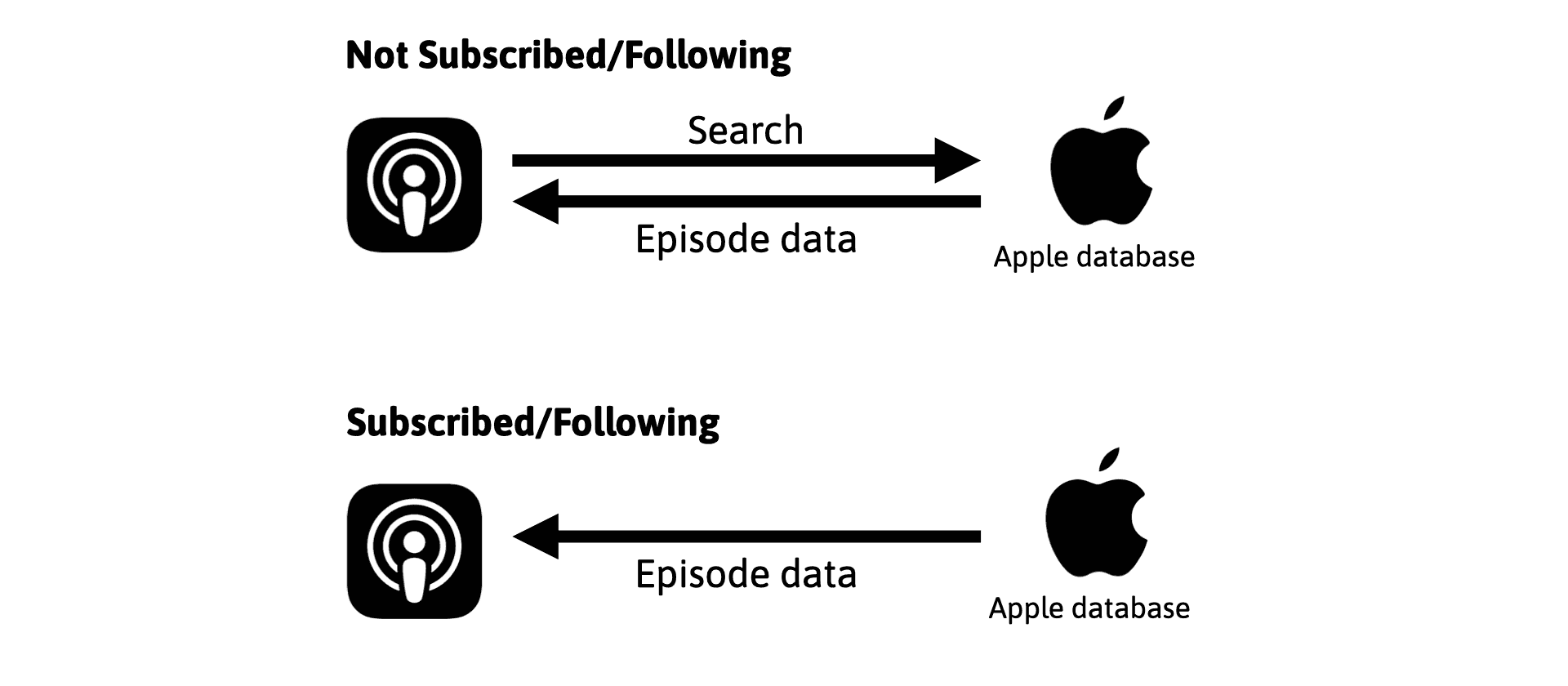 We ran Apple Podcasts on our iPod Touch through a (non-SSL) proxy, so we could see what internet websites it was connecting to.
The app still uses Apple's database for searching for podcasts.
But now, the Apple Podcasts app on your listener's phone always uses Apple's database, even if they're subscribed. Your listener's phone never looks directly at your RSS feed.
If your listener refreshes the 'Library' screen on their phone, the Apple Podcasts app makes one quick call to a server at amp-api.podcasts.apple.com, which tells their app about all the shows they are following.
This is great news for your listener's privacy, since their phone isn't connecting directly to an RSS feed.
It's good for their battery life, since it's one internet connection. And it's good for their data connection, too, since RSS feeds can be quite large, while the API call to Apple contains the bare minimum required to keep the Apple Podcasts app working.
What does this mean for podcasters?
We have to wait for Apple's iTMS crawler to check our RSS feed before any of our Apple Podcasts listeners see a new episode - whether they're susbcribed or not.
Almost every other podcast app works this way: Spotify or Google Podcasts, for example.
However, Apple's crawler runs significantly less often.
Our RSS statistics from Apr 29 contain all the accesses to our RSS feed. Here's how often they visited that day1:
How often do the crawlers visit?
Overcast    - 358 times (every 4 min)
Google      - 348 times (every 4 min)
Spotify     - 201 times (every 7 min)
iTMS        - 11 times (every 2.1 hrs)
Different podcasts are visited at different times, and since Podnews is a daily news podcast, we do get visited quite often: by everyone except Apple, who visits about every two hours.
Previously, this wasn't an issue, since if you were subscribed through Apple Podcasts, you'd see the new episode as soon as we published it.
But now, if you're using Apple Podcasts, you could be waiting over two hours for your listeners to hear a new episode. We publish our podcast at 11:00 UTC. The iTMS crawler visited at 09:35 UTC, and then again, almost three hours later, at 12:25 UTC.
Update
While still slower than other crawlers, Apple appear to have improved the speed - at least, for our own podcast.
May 8: 70 visits (every 20 mins)
May 7: 57 visits (every 25 mins)
May 6: 38 visits (every 37 mins)
May 5: 48 visits (every 25 mins)
May 4: 10 visits (every 2 hours)
May 3: 15 visits (every 1.5 hrs)
May 2: 17 visits (every 1.5 hrs)
May 1: 15 visits (every 1.5 hrs)
What does this mean for podcast consultants or hosting company support teams?
You've probably been saying "don't worry if you don't see the new show on Apple Podcasts for the web - your subscribers will still see it as soon as you publish".
This isn't the case any more.
So how can I get Apple to see my new episode right now?
You might have read about the 'refresh feed' button in iTunes Connect; but they've taken that away in the new Apple Podcasts Connect (and, in any case, it took some time to refresh).
You could use WebSub to tell podcast crawlers to "come and get our new episode!" Apple, though, doesn't support WebSub (though Google does).
Apple's crawler should theoretically know when to visit your podcast based on previous releases. We normally release ours between 10-11 UTC, but that doesn't seem to be when Apple's visiting.
So - we're not sure. But we hope Apple are able to step up their crawler's visits to match Spotify or Google; or, better still, support WebSub.
Footnotes
We corrected these numbers on May 5, after spotting an error in our calculations.
| | |
| --- | --- |
| | James Cridland is the Editor of Podnews, a keynote speaker and consultant. He wrote his first podcast RSS feed in January 2005; and also launched the first live radio streaming app for mobile phones in the same year. He's worked in the audio industry since 1989. |