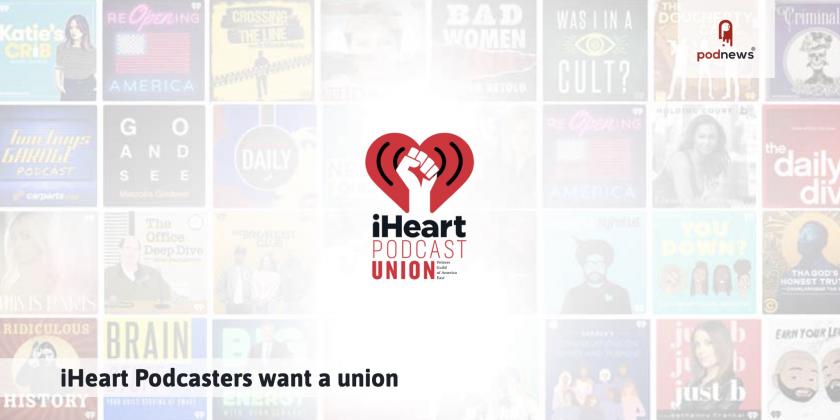 iHeart Podcasters want a union
LISTEN
· · 2.6 minutes to read
This article is at least a year old
At iHeartRadio, podcast producers, editors, researchers, writers and hosts are unionising with the Writers Guild of America, East. The iHeart Podcast Union was launched yesterday; the website contains many concerns about working conditions. Saying that they "have been encouraged to embrace the dynamism of start-up culture without any of the associated benefits", the union says "iHeartMedia's overall compensation and benefits standards are wholly insufficient when compared to the greater podcast and scripted audio market". The union has support from around 70% of employees, we're told. The union hopes that iHeart will voluntarily recognise it; it's the latest unionising activity in the podcast space after Gimlet, Parcast, The Ringer, and others.

We're also told that iHeartMedia has a current policy of "no promotions, no raises"; and we've learnt iHeart's average salaries - $55k for a producer, $70k for a supervising producer, and $90k for an executive producer. (These are around 15% lower than Werk It's survey in 2019), or AIR's rate guide from the same year).

Headliner's Pro service now offers transcriptions for entire podcast episodes.
Spotify has responded to our story on Wednesday wondering where their announced shows are, by giving a statement to, er, HotPod Insider. "Many of our agreements are announced at the deal stage and it's important to recognize that like any production house or studio, building an audio arm takes time and requires significant planning, from hiring the right audio experts with audio specific technical skills, to pre-production, writing, development, casting and recording", says the company.

In the UK, Manchester's Crowd Network now has a team of eleven people, 14 months since its launch. The company has announced two new investigative podcast documentaries in early 2022.

If you live in the UK, and you've a Sonos device, BBC Sounds is now available as a preview on the system. You'll find it in the Sonos app.

Dávid Tvrdoň writes a super-helpful look back at 2021's podcasting news.
Moves and hires - with Pod People
Podcast News - with Blue Wire

In
Blue Wire
's limited series
WR1
presented by WynnBet, legendary NFL wide receiver Cris Carter interviews legends of the WR position as well as the next generation of superstars to understand what makes this position so unique, as so many personalities and stories come from outside of the hash marks. Guests include Julian Edelman, Adam Thielen, Mike Evans, Calvin Johnson, and many more.

For Colored Nerds
has relaunched - with NPR doing a feature on the show on their Morning Edition show. The show is now with Stitcher. -
read more
Pod Events
Getting
the
five
latest
events
This section is continually updated. Data: Podevents. See more and add yours, free
Latest Pod Jobs
This section is continually updated. Data: Podjobs. See more and add yours, free